With interstate travel finally back on the table, we've spent the last few weeks scouring the web, trying to nab some next-level accom without breaking the bank. But after flights being grounded for so long, we can't help but worry about the environmental impact of everyone getting back in the air. Sure, we want to explore every hidden corner of our stunning sunburnt land, but first, we need to work on reducing the toll of our travel lust.
Enter KKday—the first and only international travel agency kickstarting a movement towards ecotourism. In collaboration with local tourism brands, the platform is pushing travellers towards sustainable experiences with real meaning and impact on the local community. With a growing list of over 60 adventures featured on their site, it's now easier than ever to offset those years of international jetsetting with an eco-friendly experience on Australian shores.
Of course, 60 adventures can be a lot to choose from, especially when the prices are slashed by up to 15% off due to KKday's latest promotion. Thankfully, we've done the hard work for you, and rounded up our top picks for 10 of the coolest tours to introduce you to the world of ecotourism. Time to get travelling!
Swim Between the Colourful Coral of the Great Barrier Reef
Experience one of the world's greatest natural wonders with an epic day tour of the Great Barrier Reef. Your tour will take you to the world's largest coral reef system via a catamaran cruise to Green Island, about 45 minutes off the coast of Cairns. From there, you can explore the island's lush natural rainforest, go for a snorkel, or view the reef from the comfort of a glass-bottom boat. Personally, we think it's worth getting wet to make the most of the reef's crystal clear waters and incredible wildlife.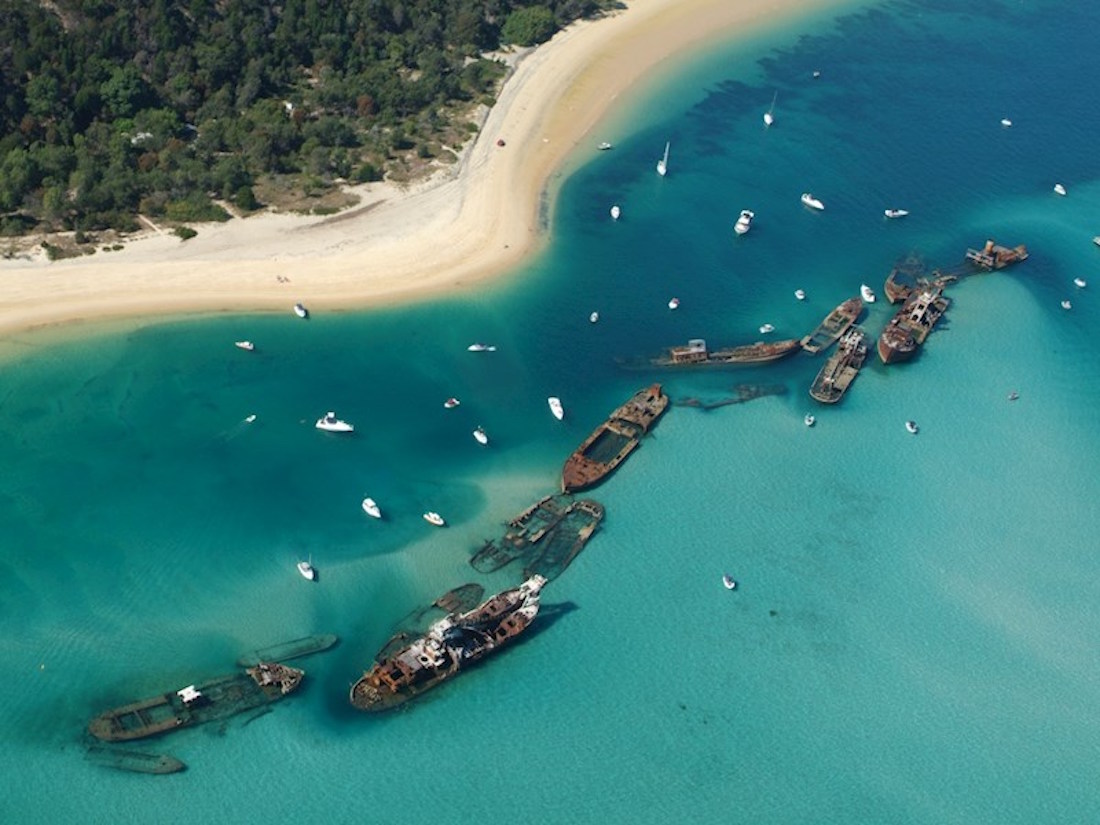 Explore Tangalooma's Sunken Shipwrecks
Widely considered the jewel in southeast Queensland's crown, exploring the famous Tangalooma Wrecks makes for one heck of a day out. This 12-hour day tour will see you snorkel around 15 sunken vessels just off the coast of Moreton Island, getting up close and personal with the hundreds of species of marine life that call the wreckage home. After lunch, you'll be treated to a paddle in a transparent kayak, gliding over countless tropical fish hiding in the colourful coral reefs below. Trade in your sea legs for a heart-pumping race down the Moreton Island sand dunes, followed by an exhilarating off-road adventure unlike anything you've tried before.
Conquer the Tully River
Strap yourself in for 12 hours of non-stop adventure with a thrilling ride down the Tully River. Set against the backdrop of Cairns' picturesque UNESCO World Heritage-listed rainforest, the Tully River White Water Rafting tour will see travellers battle grade three and four rapids and get absolutely drenched in the process. Spend a little extra and score yourself a post-tour dinner at the Feluga Hotel—trust us, your body will appreciate the energy boost.
Unleash Your Inner Tarzan at TreeTops Adventure Park
Trade in Tarzan's vines for flying foxes with an ecotour at Sydney's TreeTops Adventure Park. Featuring over 100 elevated obstacle courses, prepare to tackle wobbly rope ladders, long suspension bridges, and epic ziplines up to 25 metres off the ground. Look down upon the forest floor below and take pride in the fact that your time amongst the treetops isn't doing damage to the wildlife around you. Who doesn't love an eco-friendly getaway?
Dance with the Dolphins in Nelson Bay
Sure, whale watching is all the rage, but have you ever been dolphin watching? The premise is the same—dolphins are part of the whale family, after all—only you'll be trading in glimpses of the ocean's gentle giants for a visit from their far friendlier cousins. This tour will see you hop on a stylish catamaran sailboat and cruise around Nelson Bay as members of the local dolphin population surface around you. Feeling brave? Gear up and go for a dip with the dolphins under the supervision of your tour guide. Don't be shy—the dolphins sure aren't!
Watch the Penguin Parade on Phillip Island
Treat the animal lover in your life to an unforgettable adventure on Phillip Island. This 4-in-1 tour begins with a trip to the Churchill Island Heritage Farm, where you'll meet some of the locals as they go about a typical day in one of the country's most stunning southern retreats. From there, you'll head over to the Phillip Island Koala Conservation Reserve, where you'll walk across towering treetop boardwalks to spot cuddly koala bears in their natural habitat. Then comes the real highlight (sorry koalas, but we're a sucker for penguins—especially little ones!). Watch the world's largest colony of little penguins waddle back to their burrows during the iconic Penguin Parade, or better yet, get up close and personal by splurging for Penguins Plus.
Get Steamy At The Mornington Peninsula Hot Springs
Bliss out with a taste of whole body relaxation courtesy of the Mornington Peninsula Hot Springs. Offering multiple price points for different levels of luxury, this world-class ecotour promises a well-deserved break from the day-to-day in an award-winning geothermal oasis. Breathe in the fresh mountain air as you pick from over 20 different bathing experiences, including the cold plunge pool, hydrojet pool, amphitheatre pool, and much, much more. Upgrade to a Spa Dreaming ticket and score a 45-minute private mineral bath for a true sense of the luxe life.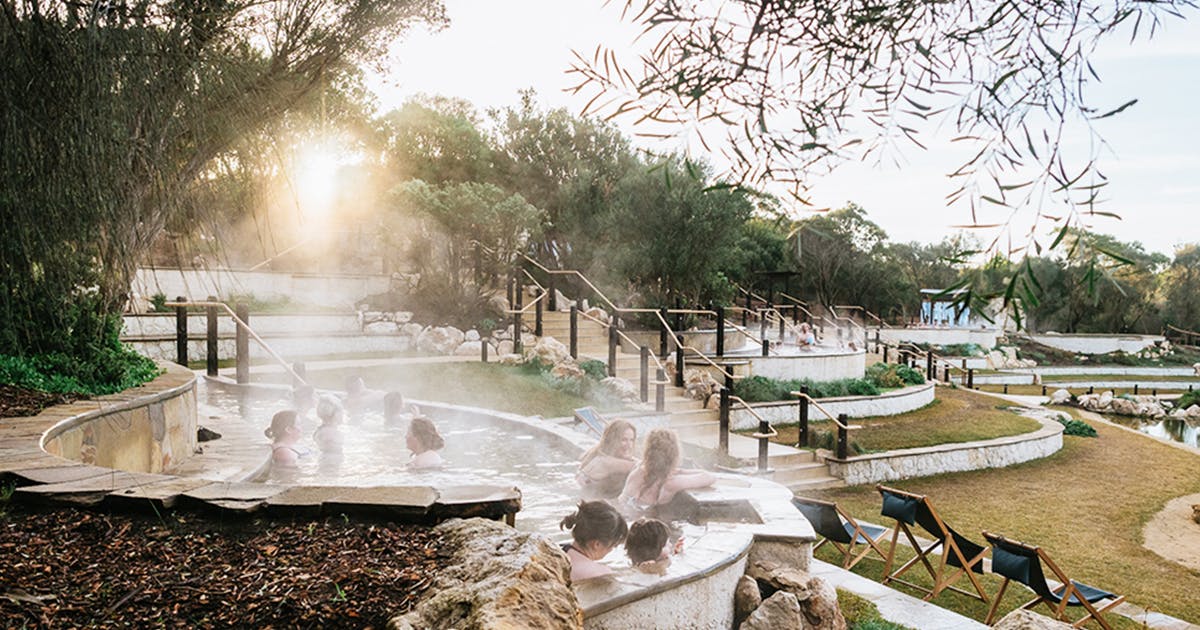 Board the Big Cat for a Trip to Green Island
All aboard! The Green Island Reef Cruise Tour is setting sail—and you're coming with. Choose between a full or half-day experience before embarking on a luxury catamaran ride to the picturesque Green Island. Once the boat has docked, guests will be treated to the best of both worlds—the world's largest reef system alongside lush tropical rainforest. Grab some of the complimentary snorkelling equipment and start exploring the vibrant marine world just beneath the ocean's surface, before trying out the tour's semi-submersible. Dry off with a stroll around the island's walking trails, and be back just in time to head back to the mainland.
Stake Your Claim on the Secluded Low Isles
Just 30 minutes off the coast of Port Douglas sits a secluded tropical getaway just waiting to be explored. The Low Isles ecotour is not your typical island adventure—rather, it offers a guided, sustainable tour of everything the region has to offer. From snorkelling around the northernmost part of the Great Barrier Reef, to visiting the historic Low Isles lighthouse, this picturesque coral cay is packed with plenty to see, do and learn. Keep an eye out for the spectacular wildlife that calls the island home—we hear the seabirds love a chance to show off.
Chase the Sun to Fitzroy Island
An untouched getaway in the heart of the Great Barrier Reef, Fitzroy Island is nothing short of the ultimate island paradise. Choose between a full or half-day tour, where you'll embark on a 45-minute scenic cruise to the island's pristine sandy shores. Once you arrive, the rest is up to you—explore over 339 hectares of rolling natural landscapes, make friends with the fishes on a snorkel safari tour, or follow exciting hiking trails through the lush rainforest of one of Cairns' best island getaways.
When it comes to eco-friendly adventures, KKday are the absolute experts. Check out their site for more sustainable tours spanning across Australia, and beyond.
Travel and feel good knowing KKday will donate 50% of profits to chosen eco-related organisations and suppliers to help kickstart the industry's movement towards ecotourism.
Editor's note: This article is sponsored by KKday and proudly endorsed by Urban List. Thank you for supporting the sponsors who make Urban List possible. Click here for more information on our editorial policy.