Melbourne's 2022 summer social calendar is quickly filling up with enough unmissable events. We're talking free live music concerts, epic art installations, and a kaleidoscope of colour set to transform Fed Square into a scene straight out of Alice in Wonderland.
Enter Kaleidosquare, a psychedelic, prismatic party for the senses that promises to deliver a suite of events so you can send out summer with a bang. The summer celebration is running until March 31st, giving you plenty of time to eat, drink and dance your way through each and every installation.
Keen to get the party started? Us too. Check out our top picks for the most unmissable events coming to Fed Square this party season.
Vibe Out To The Biggest Names In Aussie Music At

Fed Live

If there's one thing we've missed over the last two years or so, it's been Victoria's epic live music scene. There's nothing quite like letting loose after a couple of drinks and getting your groove on whilst supporting your fave local artists. Thankfully, Fed Live has heard our pleas, with a promise to bring live music back to Melbourne this summer. From chart-topping Grammy nominees to the hottest indie musos, they've planned a lineup set to blow the roof off (hence the outdoor venue). We're talking world-class performances from Dylan J, The Grogans, Bones & Jones, and GRAZER, plus plenty more up and comers sure to make a splash.

When: 5.00pm - 9.00pm on February 25th, March 18th, and April 14th
Where: Main Stage
Price: Free
Keep It Classy With A Candlelight Concert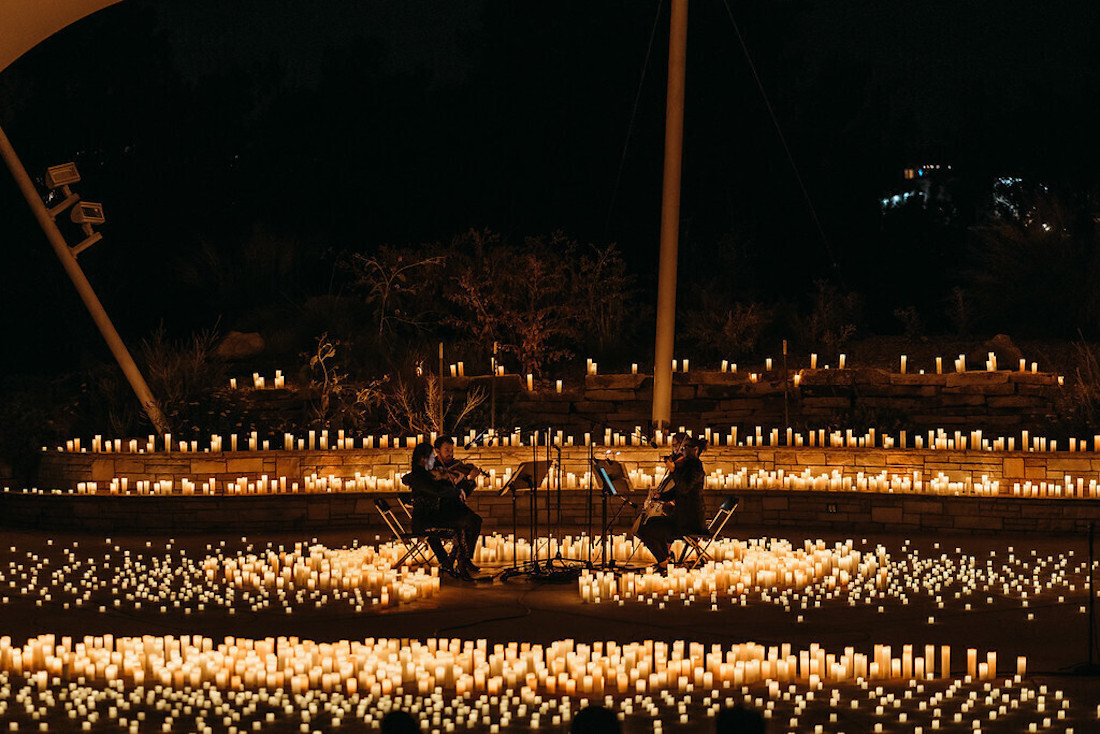 Looking for some romantic date night inspo? Treat your beau to an intimate night out courtesy of Fed Square's Candlelight Concert Series. With performances planned for Valentine's Day, plus two more dates later in Feb, it's the perfect excuse to love it up without splurging on thousands of twinkling candles—those come part of the package. We recommend pencilling in the 26th for an epic rendition of the Greatest Movie Scores of all time. Surely Harry Potter will make the list? We can only hope.
When: 8.00pm - late on February 18th and 26th
Where: Main Square
Price: Free
Set Off On An Urban Adventure With This Silo Art Trail
An homage to Victoria's iconic regional silo art, this epic Urban Art Trail brings some of the state's most incredible masterpieces to your doorstep. This innovative exhibit showcases how media, texture and talent come together to tell a story that goes so far beyond simple paint strokes. Enjoy the works of renowned street artists like Adnate, Kitt Bennett and Jimmy Dvate as they transform miniature wheat silos into impressive works of art.
When: Until March 31st
Where: Main Square
Price: Free
Treat Yourself To Some Summer Comfort Films In Main Square
Film buffs, this one's for you! Enjoy your fave comfort flicks on the big screen with a trip to Main Square this summer. We're talking The Adventures of Tintin, Super 8, Midnight Run, and more. Whatever you choose, you can guarantee some solid laughs, tears, and maybe even a scream or two.
When: Select dates and times until February 20th
Where: Main Square
Price: Free
Looking for more ways to celebrate your newfound freedom? Check out Fed Square's full Kaleidosquare calendar here.
Image credit: Supplied, The Grogans Instagram
Editor's note: This article is sponsored by Fed Square and proudly endorsed by Urban List. Thank you for supporting the sponsors who make Urban List possible. Click here for more information on our editorial policy.