When one thinks of Queensland's eastern coast, the mind drifts straight to either end of the state: The Gold Coast or Far North Queensland. But what if we told you that in between the two exists a region of untapped beauty? A place so serene that glamping by a creek teeming with platypus is trumped only by camping under the stars, floating above the waters of a paradisical, uninhabited lagoon.
Well, that place—known as the Bundaberg region—does indeed exist, and there are more than a few reasons it should be at the top of your travel hit list. For starters, just east of the coastline is The Great Barrier Reef's southern tip, so the snorkelling, diving and island adventures come standard. And if you look west to the land, you'll be treated to the finest artisan producers along with a slew of bucolic experiences that you're going to want to bookmark immediately. And for those wondering, yes, this is the home of Bundaberg Rum, and yes, you can visit the distillery.
Best get bookmarking. Here is everything you need to do, see, eat and drink in the Bundaberg region.
Lady Musgrave Island
Lady Musgrave Island is arguably the region's crown jewel, and for good reason. First up is Lady Musgrave HQ, the just-built pontoon that acts as a rather luxurious anchor to your escape.
Lady Musgrave HQ is accessed via the Reef Empress, a luxury catamaran, which puts you in vacay mode from the moment you step aboard. Once you arrive, it truly becomes a holiday-how-you-like experience; those partial to a leisurely pace can while away the afternoon on the top deck with a drink in hand, or meet in the middle and take off on the snorkel safari where you'll meet several giant but gentle marine friends.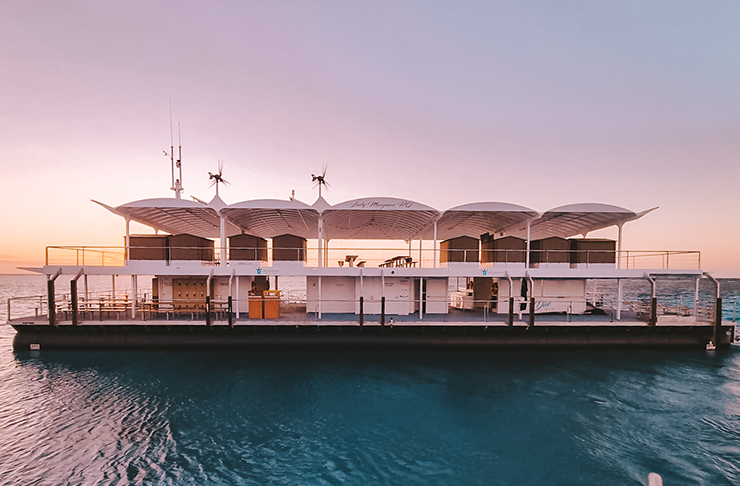 The more adventurous—and certified divers—are also spoiled for choice with several options that explore both the lagoon and the outer reef. Meanwhile, adventurers who'd prefer to stay above board can head out on an evening kayak tour.
You'll be wondering by now of the accommodation options, of which there are two unique ways to go if you opt for an overnighter. Glamp on the upper deck solo or with your significant other in a private open-air bed overlooking the reef, or head below to the bunks which offer direct underwater viewing to the reef and its inhabitants. On the food and beverage front, go all out and treat yourself to a private picnic on one of Lady Musgrave's private beaches, then head back to HQ come dinnertime where you'll be treated to a home-style meal celebrating Bundaberg's local produce.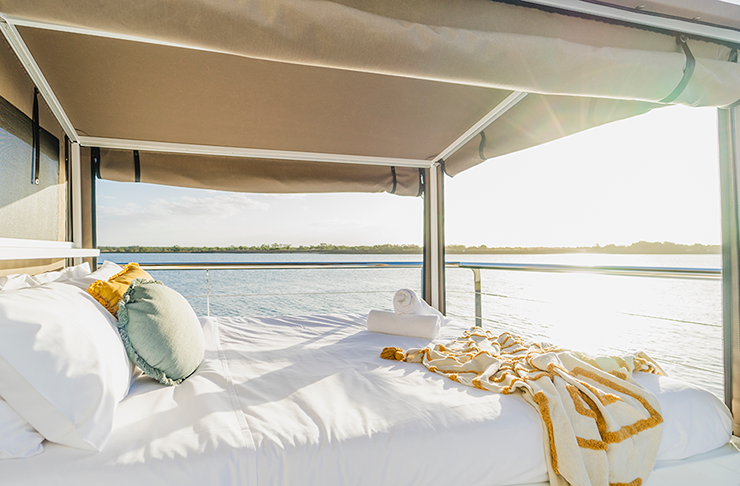 Dive deeper into everything Lady Musgrave Island has to offer here.
Lady Elliott Island
Prefer your island escape transfer by plane? Then take a hop-skip-and-jump of a flight from Bundaberg Airport to Lady Elliott Island instead. The 110-acre island is more affectionately known as the home of the manta rays, and that's because there are about 700 of them calling the island's surrounds home. Common to the island are turtles, too, who've sort of become the quokka of the east coast in that it's almost impossible to leave without taking a selfie with one.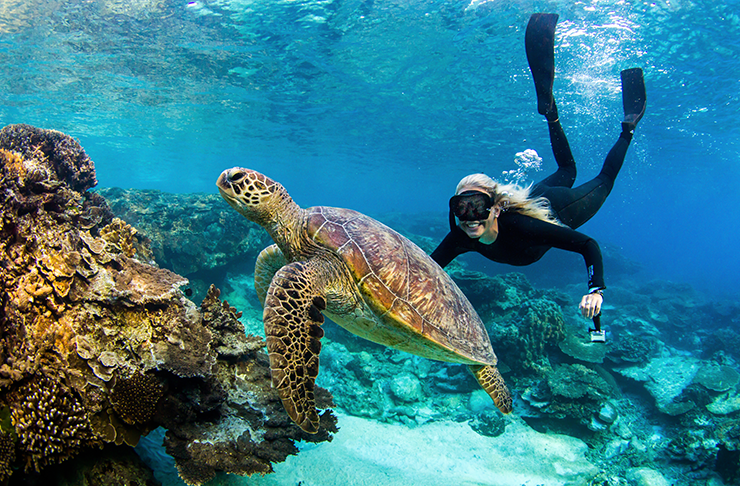 It's also a snorkelers paradise for all levels, where you'll be joined by the 700 odd rays and turtles in the shallows of the Southern Great Barrier Reef. Return to land and your accommodation—the Lady Elliott Island Eco Resort—is quite literally just several metres from the beach.
Scope out your flights, accommodation and your manta ray meeting here.
Splitters Farm Glamping
This is where that bucolic charm of Bundaberg comes into play. The 160-acre Splitters Farm originally began as a haven for rescued farm animals, though since its beginnings in 2017 the working farm has expanded into a farm-stay like no other.
The sprawling property has six luxe glamping tents, each facing the calm waters of Splitters Creek—where those platypi we mentioned earlier reside—and where you could easily spend several afternoons taking in the serenity, which you could and should do if that's your MO. Get up from that camping chair, however, and you'll discover something wholesome in every one of those 160 acres.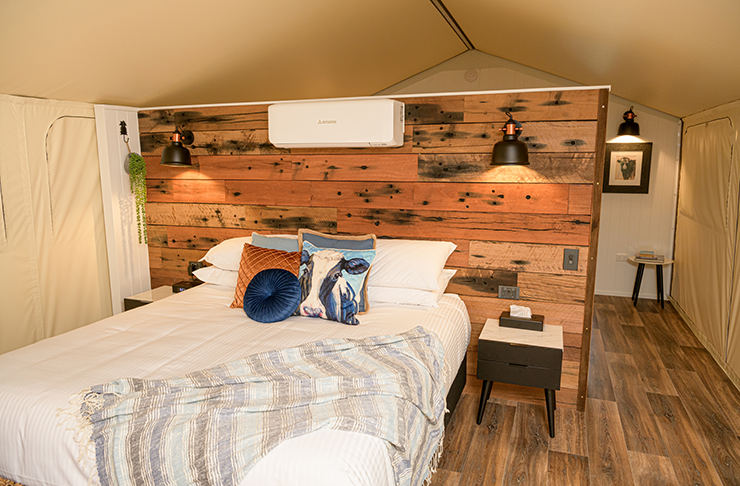 If you've ventured to Splitters Farm, chances are you've got a soft spot for animals, to which end you'll find in abundance here. Your best bet is the guided tour led by the farmers (and sometimes their kelpies), where you'll meet the two herds of cows, the always-inquisitive alpacas, pigs, goats and almost any other farm animal you can think of. Ask nicely and you might even get a taste of some fresh honey from the beehives.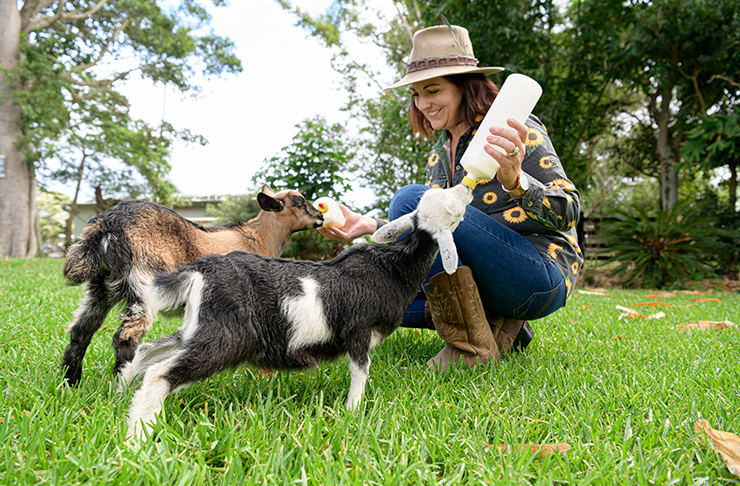 The freshwater oasis that is Splitters Creek also provides a plethora of wholesome affairs in and above the water. Meander down the odd 5km of creek surrounding the property in a kayak fit for one or two, a canoe of three, or go solo on the stand-up paddleboard. Regardless of your cargo, you'll likely pass by the odd water-dragon bathing above board, over 150 species of birdlife and perhaps the odd platypus at the right time of day.
Looks like a prime spot for a dip, too, right? Pick a posy along the creek and jump in, because swimming is encouraged all year round (except in heavy rain periods and at night).
Bundaberg Rum Visitor Experience
You'd be committing some sort of booze blasphemy if you didn't visit the Bundaberg Rum Visitor Experience in Bundaberg. Australia's most renowned rum producer has roots harking back to 1888, so as you'd expect the place is steeped in history; wannabe historians can take the self-guided tour through the museum before heading into the engine room where one of Bundy's distillers will show you the inner workings of the fully-operational distillery, from fermentation to filling up those iconic bottles. Ever wondered what a molasses well filled with 5 million litres of the stuff would look like? Now's your chance to find out.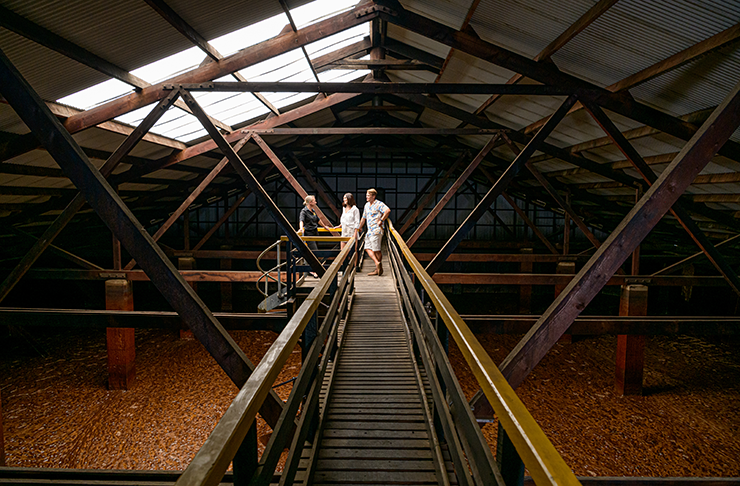 A distillery tour includes tastings if you choose, and that you should. Head to the tasting bar for a tipple or try your hand at blending your own—guided by experts of course, you'll be able to take two bottles of your bespoke rum profile. If you think you've found the winning formula, the team will even keep your recipe on hand so you can top it up down the track.
Ohana Cider House And Tropical Winery
Sure, Bundaberg is undoubtedly famous for their rum, but that's not to say the session drinkers aren't catered to. As the name states, this spot does cider, and damn well—they source their fruits from local producers who take full advantage of the area's pristine growing conditions, but just one sip of their Cheeky Tiki Cider and you'll realise the team has perfected their craft.
Wine but make it tropical. Did you know wine can be made from pineapple? And likewise with mango for your Moscato? Try them both at the cellar door and find out how it's done in the process—owners of Ohana, Josh and Zoe, will likely be behind the bar sharing their secrets.
Macadamias Australia
You'd be nuts to assume Bundaberg was just about producing stellar booze—this wholesome little pocket of the country is also the nation's macadamia capital. Saunter through the macadamia orchard at Macadamias Australia and learn all about the 2,000 odd tons they harvest each year before settling in for a macadamia-inspired coffee at The Orchard Table Cafe. The menu here props up the locals and heroes their produce—and in case you were wondering, yes, most dishes feature at least a few macadamias.
Water St Kitchen
Given the calibre of local produce, it was only a matter of time until a paddock-to-plate fine-diner set up shop in the region. Chef Alex Cameron and partner Jen head up the understated operation and leverage their relationships with local farmers and producers to create some stellar dishes starting at breaky, meeting at lunch and finishing up at dinner.
First up is a lemon and basil ricotta-stuffed zucchini flower hand-picked by Cameron first thing in the morning. You can take this paddock-to-plate masterpiece two ways: in the AM with poached eggs, aged parmesan and tomato ragu, or as a hero of the table later in the day with a healthy dusting of shaved pecorino.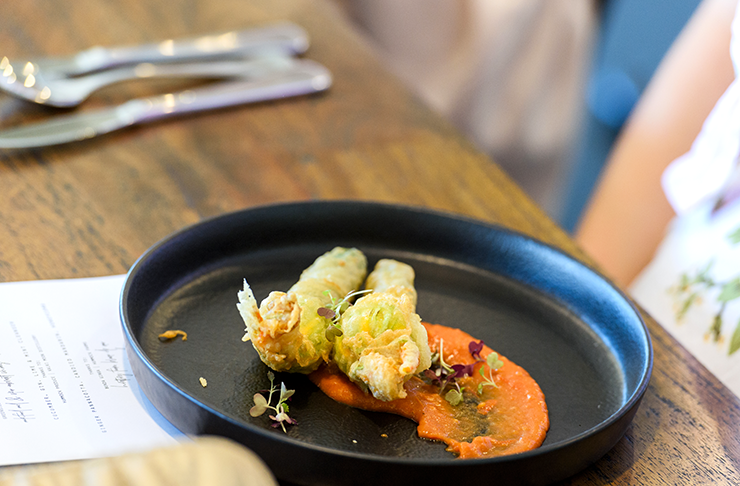 The menu comes loaded with several more unmissable dishes: the Szechuan prawn pasta and their iconic-in-the-area sand crab lasagne at lunch. Then, as the sun is setting, you'd be remiss not to order up on the confit chicken Maryland or their main-event 200g black onyx striploin, 270 days grass-fed with an MB3+ rating—which is a damn high marbling score but all you need to know is it'll be one of the most memorable steaks ever plated up in front of you.
Start packing that suitcase and plan your escape to the Bundaberg region here.
Image credit: TBC
Editor's note: This article is sponsored by Bundaberg Tourism and proudly endorsed by Urban List. Thank you for supporting the sponsors who make Urban List possible. Click here for more information on our editorial policy.