In 2020 we learnt that our fashion thirst shouldn't cost the earth. Amid lockdowns and the world taking a collective halt, our attention turned to slowing down and consuming fashion ethically and sustainably. We saw Joaquin Phoenix rock the same tuxedo to every award season event, countless luxury brands banned fur from their collections, and we even saw Maggie Roger's rock a reusable water bottle as the ultimate power accessory on the red carpet.
Now, it's skincare that's getting a sustainable glow up. There's new energy bubbling in 2022 with customers making conscious choices and brands that are transforming our skincare routines and beauty cabinets for the better.
If you're chasing that feel good, do good glow, let us turn your attention to Kiehl's and their commitment to a Future Made Better.
The iconic brand already delivers a suite of responsible formulas, renewable ingredients, eco-packaging, and sustainably-built stores, but in 2022 they're taking their green initiative to new and lofty heights. Together with Bush Heritage, Kiehl's is supporting the protection, restoration and regeneration of 30 million hectares of land and pledging to donate $20,000.
To bring the partnership to life, Kiehl's has invited four Australian artists to give their best selling Ultra Facial Cream a vibrant makeover with limited edition designs that represent Bush Heritage's work: preserving the beauty of Australia's landscapes for a Future Made Better.
With each purchase of Kiehl's Ultra Facial Cream you'll be treating your skin to plump hydration while supporting the Bush Heritage initiative, and as an added bonus, you'll be levelling up your #shelfie game thanks to the gorg designs.
From how our unique Aussie landscape influences their art to why sustainable skincare is so important, scope out the incredible designs from four Kiehl's artists working towards a Future Made Better.
Emma Hollingsworth
Emma is a Kaanju, Kuku Ya'u, Girramay woman who grew up in tropical far north Queensland and now calls Meanjin/Brisbane home. Her creative output is a captivating mix of colours and designs that pay homage to her youthfulness blending with her ancient culture.
For Emma, nature, colour and her own story is what influences her. "When I go out in nature I instantly feel at peace, like I am at one with who I am. This then gets me in a headspace where I feel calm and creative and I can get stuck into a creative piece."
When it comes to working towards a Future Made Better, Emma says, "Bringing on First Nation people to your project, getting their opinions, and valuing their knowledge like Bush Heritage is doing is a good start. Our opinions matter and our voices need to be heard. We hold so much knowledge of this country and we've been here for a very long time. We need to be put in positions where we can lead, teach, and guide others, and then we can start to make the world better for future generations."
Shop Emma's exclusive Ultra Facial Cream here.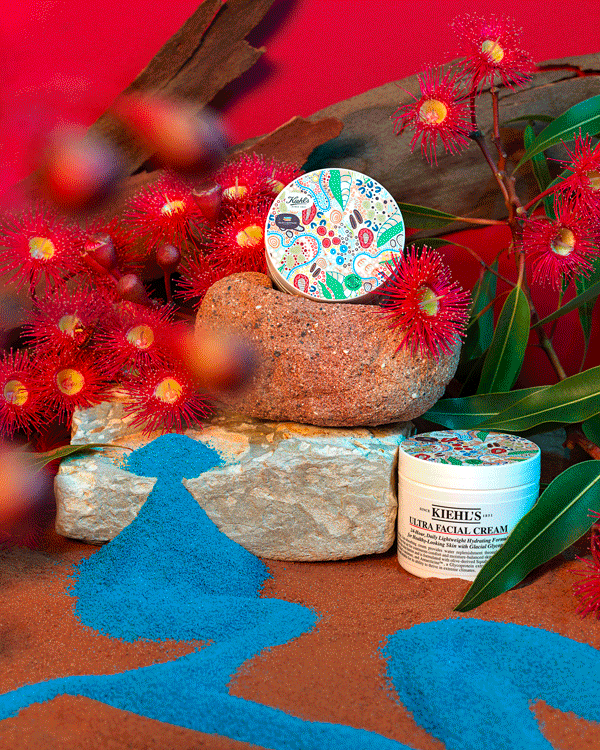 Josh And Matt Design
This Naarm/Melbourne duo are at the forefront of the sustainable interior design movement, armed with a cool 300k followers and 11 million likes on TikTok thanks to their upcycling and eco-design tips and tricks.
"We believe the more connection to land and nature we all have will result in a better future. It's important that we use our art to communicate the values we hold close. So when we had the opportunity to work with Kiehl's and Bush heritage on this collection we were very passionate about getting this message across."
For Josh and Matt, Kiehl's Ultra Facial Cream ticks all the boxes for their skin and the planet. "We love how moisturising it is for our face without it being greasy! Plus the fact it's a 100 per cent green chemistry formula that is paraben and microplastic free which gives us the confidence to know we are making the right choice."
Shop Josh and Matt's exclusive Ultra Facial Cream here.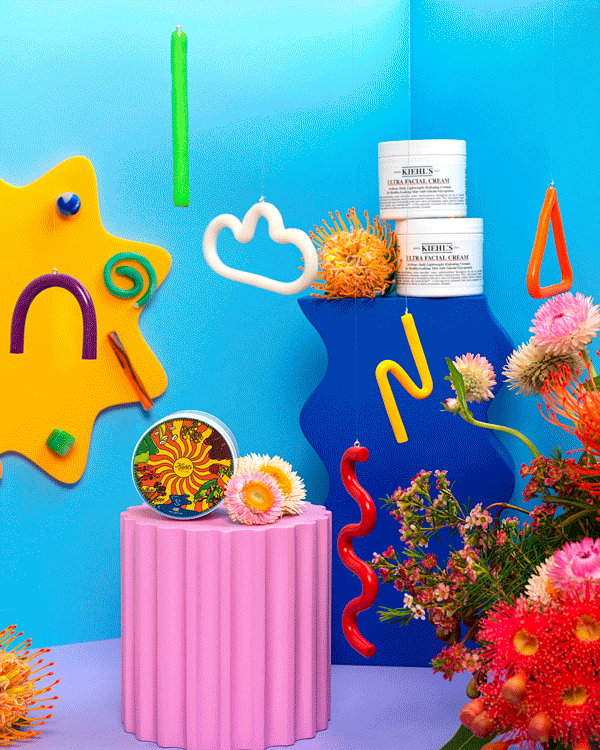 Dave Homer
Dave Homer's work is a hit of pure dopamine. With a background in the music industry and illustrating award-winning cover art, Dave's art is a mix of bold colours with a touch of street graffiti flair.
Dave says supporting Kiehl's and the Bush Heritage partnership is important because it's creating "a real and tangible difference to the Australian landscape and their vision of inclusion and respect to our lands Traditional Owners is a constant inspiration."
"Growing up on the beach has meant that the ocean has always been a huge part of my life. The water is always where I prefer to be and I find that if I can't see the horizon on a regular basis I really miss it. Nature is what inspires most things in my life."
Shop Dave's exclusive Ultra Facial Cream here.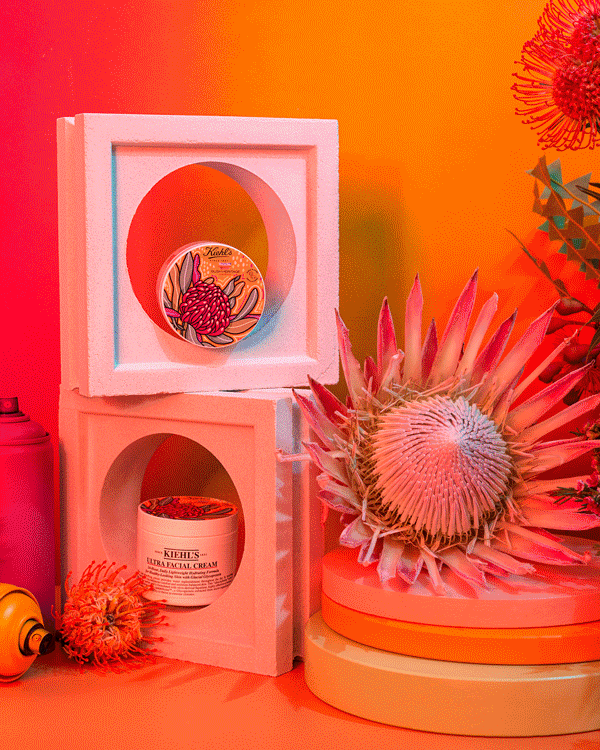 Cassie Byrnes
Cassie is a textile designer by trade with a love for working across all surfaces. "I have an old school approach to design and my process always starts with a brush and paint."
For Cassie, Australia's incredibly unique history, landscape and flora is the creative force that drives her. "We have been blessed with the most rugged landscape and unique animal life of any country on earth… Like the Grevillea and Banksia flowers family which has origins dating back to 80 million years ago."
"The work Bush Heritage does is critical to preserving and protecting the bush. I value their work with Traditional Owners and respecting their long-standing connection to country, by working together and bringing a more holistic approach to conservation."
"Using art and design to raise awareness for Bush Heritage who do such incredible work protecting the bush and restoring habitats is a beautiful synergy for this project."
Shop Cassie's exclusive Ultra Facial Cream here.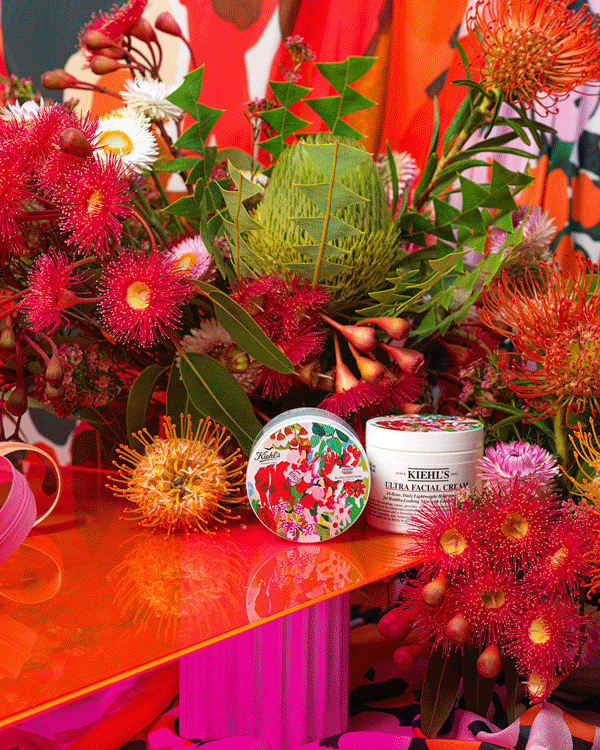 Inject a dose of hydration into your skincare routine and get that feel good, do good glow thanks to Kiehl's limited edition Ultra Facial Cream. Shop yours at Kiehl's today.
Stay tuned for more details on Kiehl's commitment to the clean beauty movement with the announcement of 30 Faces—a collaboration with Urban List profiling the next generation of changemakers to help them on their own journey to building a Future Made Better—and it's looking oh, so bright.
Image credit: Supplied
Editor's note: This article is sponsored by Kiehl's and proudly endorsed by Urban List. Thank you for supporting the sponsors who make Urban List possible. Click here for more information on our editorial policy.