Dreaming of your next summer adventure? Well, dream no more and make a beeline for Mt Hotham. Australia's highest alpine village offers a plethora of adventures year-round. The summer sun brings out a diverse network of trails ideal for hiking, biking, and trail running, and—the best part—you'll be rewarded with spectacular scenery in every direction. Here are five reasons Mt Hotham needs to be at the top of your travel hit list this summer. See you there!
Lace Up Your Hiking Boots
Mt Hotham offers a track for every type of walker. Setting off from both Mt Hotham Village and Dinner Plain, there's everything from leisurely strolls to multi-day expeditions. It's where you'll find the famed Falls to Hotham Alpine Crossing that sees trekkers winding 37km along alpine ridges and over rocky summits on a three-day adventure. You'll be treated to ridiculously beautiful mountain panoramas, majestic sunsets you could almost swim in, picnic-perfect wildflower-filled meadows, and selfie spots that are literally on top of the world (or at least Australia). Whatever trail you embark on, Mt Hotham ensures breathtaking views with every step. Discover the trails and find out more here.
Undertake The Ultimate Cycling Challenge
The road to Hotham has cemented itself as one of Australia's most iconic cycling routes. While the challenge will have your glutes and quads firing, you'll be rewarded with striking sights—not to mention a solid sense of achievement. The Great Alpine Road takes you from the valley town of Harrietville and climbs to Mt Hotham Village before a mostly downhill cruise to Omeo. It's a true alpine challenge with climbs graded up to 18%. Alternatively, explore Mt Hotham without breaking a sweat on an e-bike. Hire an e-cruiser at Dinner Plain and venture to the nearby lookouts and picnic spots until your heart's content.
Book Out An Entire Ski Lodge… Or Camp In The Trees
With plenty of adventures to be had, you'll want to stick around for a few days in this spectacular natural playground. From cosy lodges to luxe apartments, there are plenty of accommodation options to choose from. Round up your extended family and book an entire ski lodge to yourselves. It's a fun way to get everyone together for a memorable holiday that will be raved about for years to come. For something a little more zen, check out eco-glamping with Alpine Nature Experience. Here, your stay sees you camping in a unique tent that's strung between the trees and suspended above the alpine terrain—how good.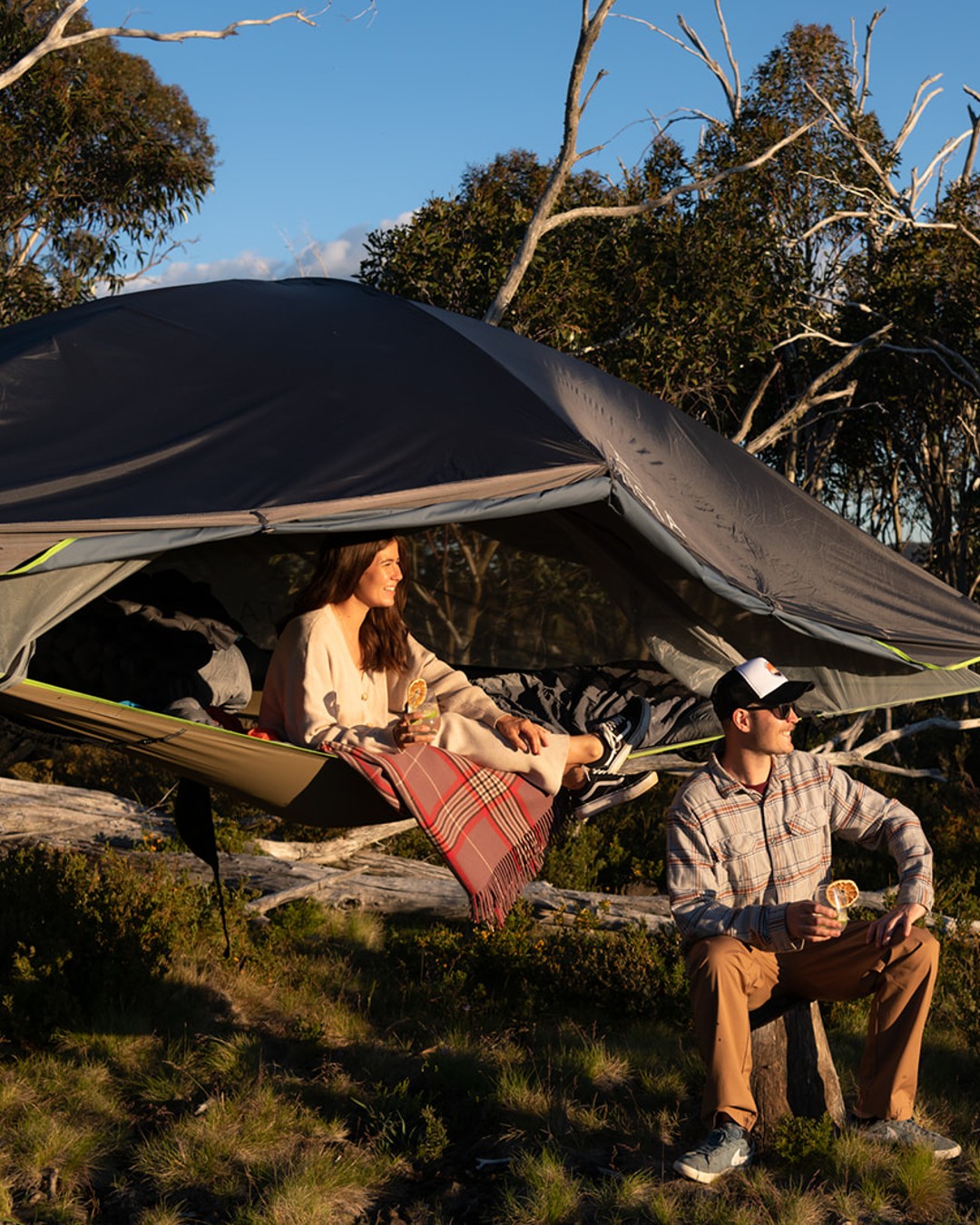 Hit The (Unsealed) Road
If you're a 4WD enthusiast, put Mt Hotham on your adventure bucket list. Mt Hotham is home to some of the country's most sought-after and challenging 4WD terrain. The famed destination is a playground for you and your vehicle with breathtaking ridgelines, endless valleys, and creek and river crossings of varying depths. This extensive guide details trek options with maps, track notes, facilities, and places of interest clearly marked. Make the most of your petrol by packing your overnight supplies and sleep underneath the stars at one of the many campsites—bliss.
Soak In The Breathtaking Scenery
We've said it before, and we'll happily say it again (and again): Mt Hotham showcases some of Australia's finest vistas—and summer is an ideal time to spend all day long soaking them in. The raw, natural beauty provides a breath of fresh air from the hustle of city life. From misty sunrises to 360-degree views of the rugged mountain ranges, the spectacular scenery will take your breath away time and time again. All of the aforementioned experiences offer incredible views, and these noteworthy picnic spots provide a place to refuel while soaking up the serenity. Don't take our word for it—check out the magic for yourself IRL this summer.
Editor's note: This article is sponsored by Mt Hotham and proudly endorsed by The Urban List. To find out more about who we work with and why read our editorial policy here.
Images: Top—sourced via @mt.hotham.resort Instagram; in-article by @capture_by_karen.