Stepping into Ovolo South Yarra is like stepping back in time, but with all the mods (not the cons) of 2021. Fusing retro chic with rock 'n' roll glamour, this hotel is anything but ordinary. As the latest link in the Ovolo Group chain, it speaks to a bygone age when luxury and flamboyance were one and the same—and we are here for it.
After cancelling most of your holiday plans for 2020 and 2021, it's about time you put some pizazz back into your calendar. Here are eight reasons to book into Ovolo South Yarra, stat.
Soak Up Some Retro Glamour From The Get Go
If first impressions are anything to go by, the Ovolo South Yarra lobby will have you immersed yourself in good vibes the second you step through the door. Award-winning interior design firm Luchetti Krelle nailed the assignment, flexing their creative genius on the psychedelic entry with nods to the disco era at every turn. We're talking original pop-art-inspired artworks and a neon fireplace atop curved concrete surrounded by plush leather seating. The reception even boasts a concrete monolith of a welcome desk—reminiscent of brutalist 70s design, weighing in at a hefty six tonnes. And this is all before you make it up to your room.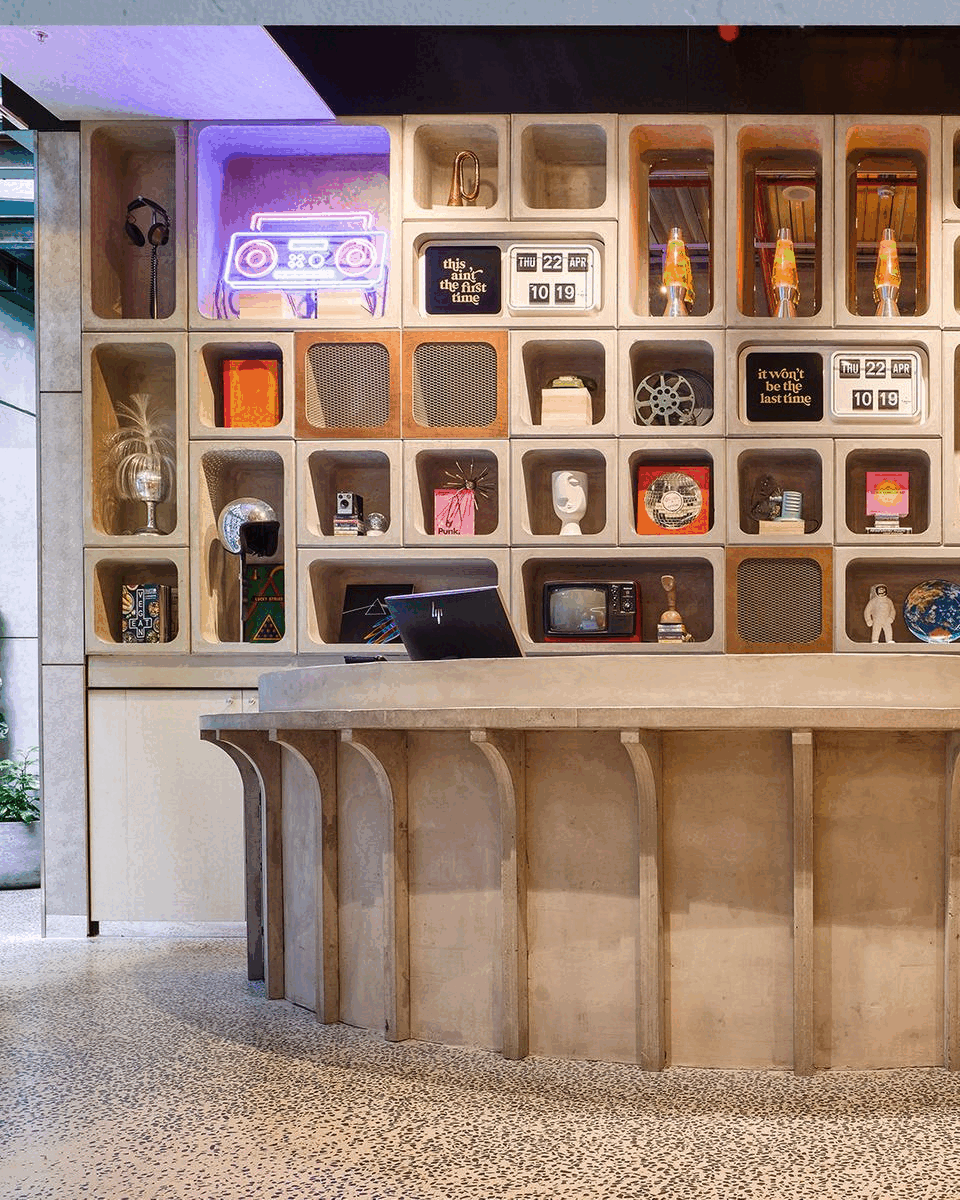 Check Out Ovolo's Groovy Art Collection With A Guided Tour
With one of the largest private art collections of any Australian hotel, it's only fair to share the love around. That's why the team at Ovolo offer their guests guided tours of the eclectic collection on display throughout the hotel and restaurant. Partially curated by Ovolo Group founder Girish Jhunjhnuwala, the collection features many works by local and international artists alike. Picture a stellar lineup from Jisbar, Mr Brainwash, Punk Me Tender, Johnny Romeo and Ben Tankard. It's pop-art and "retrofuturism" galore, all wrapped up in this cosmopolitan pocket of Melbourne.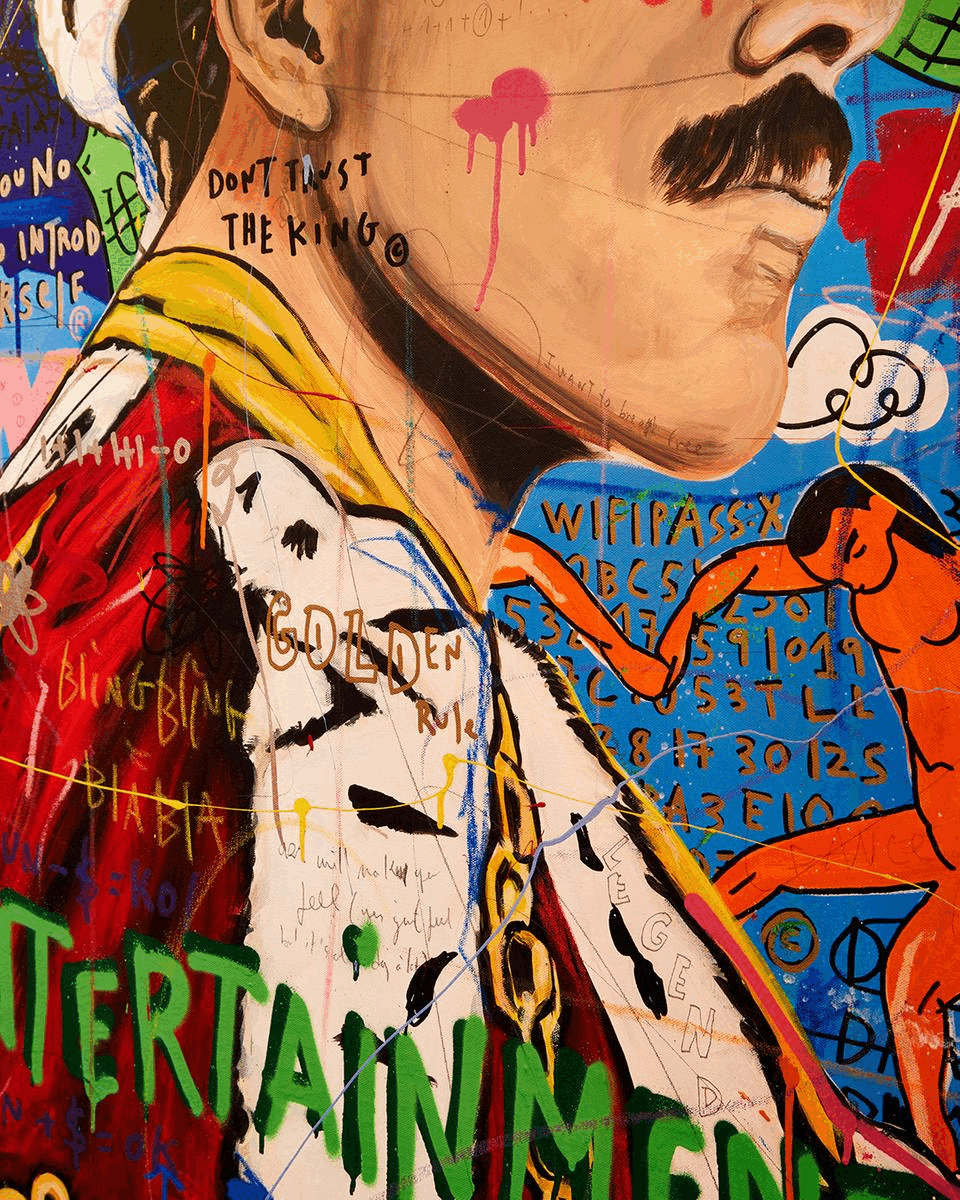 Feed Your Soul At Shannon Martinez And Ian Curley's Lona Misa Restaurant
Viva la veg! is the mantra at the charismatic, Latin-inspired Lona Misa. With almost 50 years of experience between them, renowned Melbourne-based chefs Shannon Martinez (Smith and Daughters) and Ian Curley (French Saloon, Kirk's Wine Bar) are the perfect pair to bring Lona Misa to life and pay homage to humble veg. You'll have a hard time believing it's completely vegan with items like Prawn Augachilie and Manchego Croquettes on the menu. The carefully curated dishes are seasonal, celebrating local producers and farmers, bringing homegrown goodness direct to your dining table.
Treat Yourself To A Tipple At The Lona Misa Bar
Slink into something a little less comfortable for the evening and head to the Lona Misa bar for a lively libation. From kombucha on tap and native G&Ts, to Latin-inspired cocktails and housemade sodas, there's a drop to suit all sobriety levels. Martinez and Curley's carefully selected wine list celebrates local, progressive wineries producing natural, organic and carbon neutral wines. Each bottle complements the menu while supporting Australia's network of small wineries shaking up the status quo. We'll drink to that.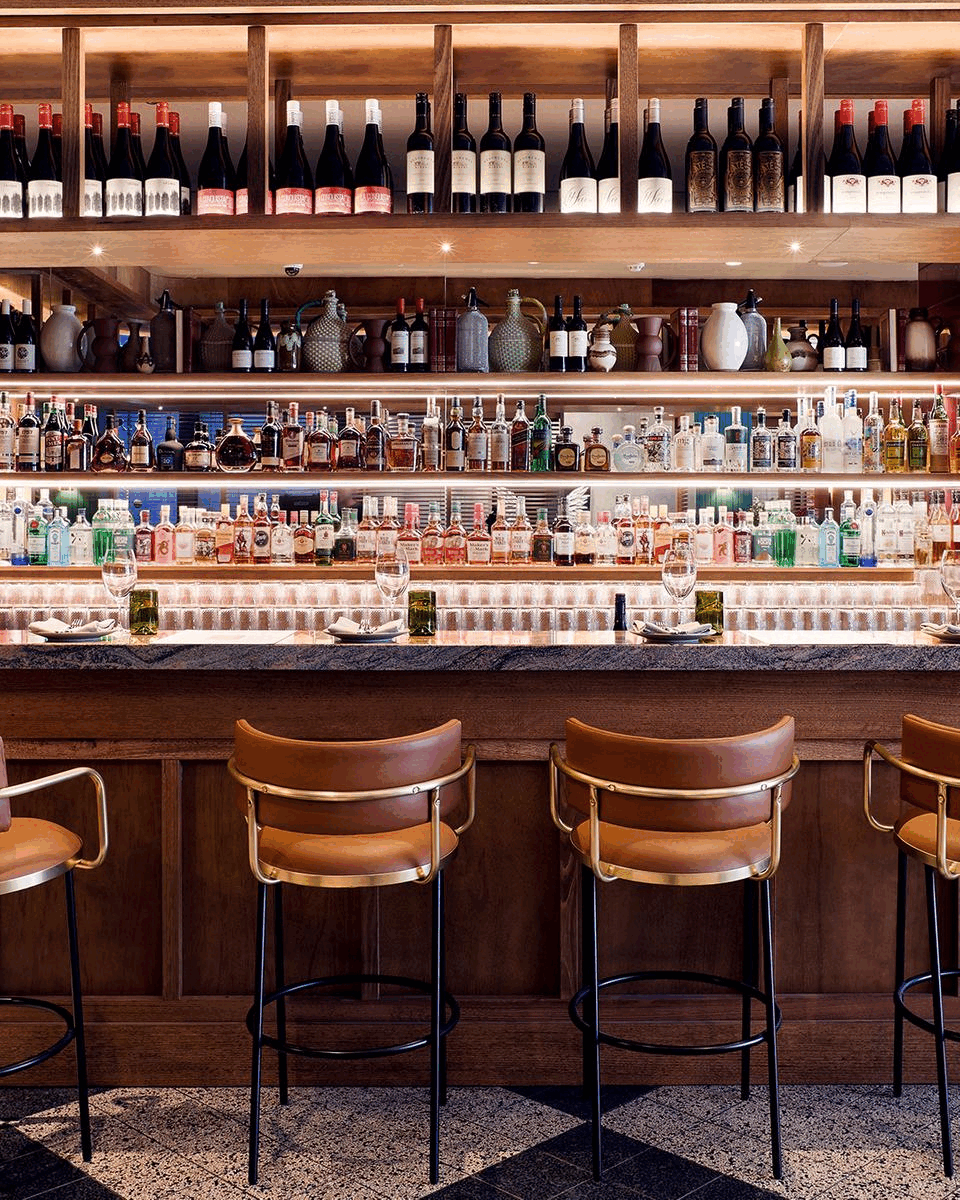 Be Transported To Studio 54 From The Moment You Enter Your Room
Whatever your budget, every room at Ovolo South Yarra has been designed to keep the good vibes going. With Luchetti Krelle's custom retro wallpapers taking pride of place, paired with a resurgence of chrome finishes and plush furnishings, there's no shortage of colour and pattern in these glamorous rooms that'll awaken the disco diva within. Opt for the Go-Go Room if you're flying solo or, the aptly named Boogie ond Groovy rooms for a more spacious dance party for two.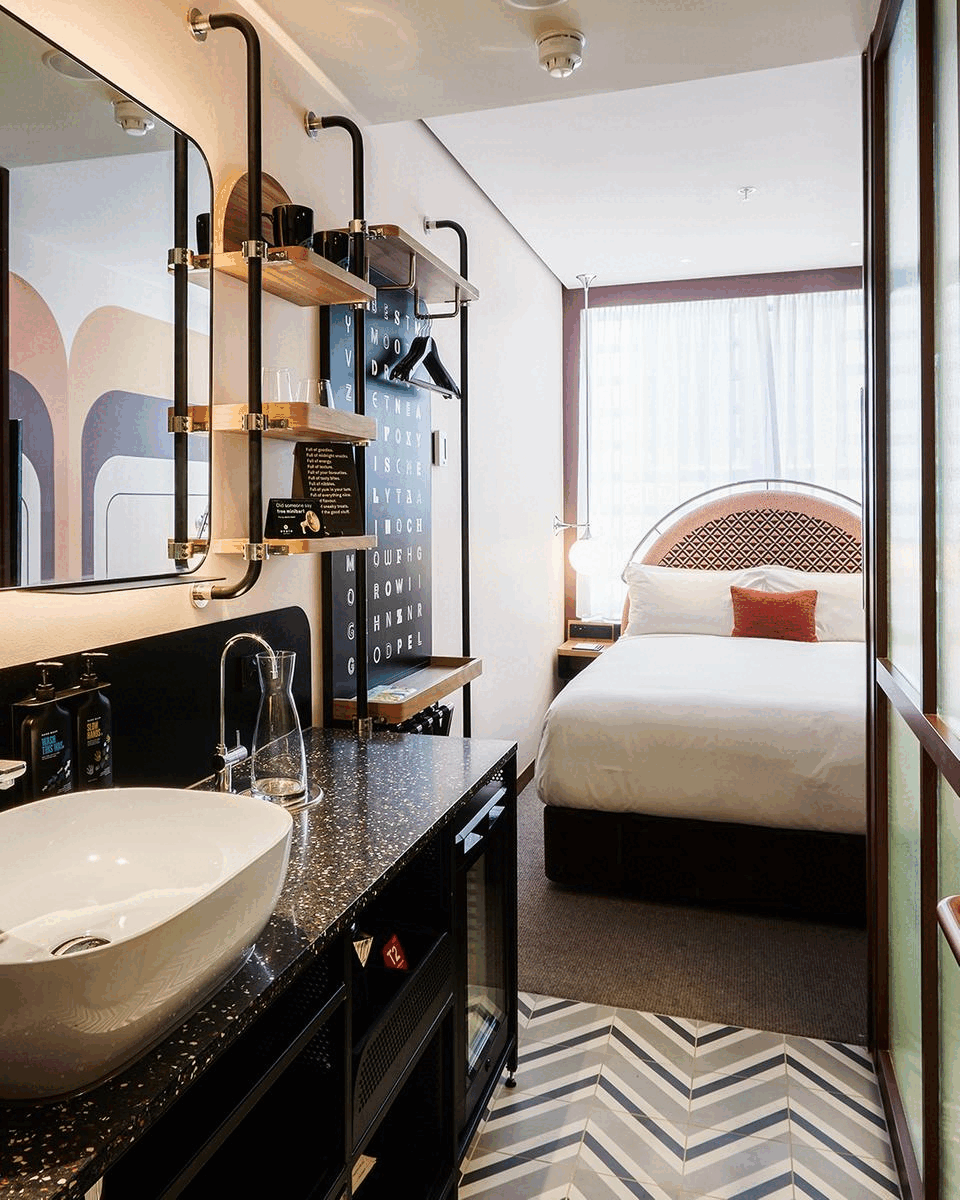 Live The High Life In The Ovolo Penthouse Rockstar Suites
As the name suggests, the Rockstar Suites on the top floor are for those looking to live like rock royalty. Named after Sonny and Cher and John and Yoko, these spacious digs come kitted out with a suitably stocked minibar, record player, lounge area, and king bed. Finished with Mr Brainwash artwork, the comfortably styled decor is straight out of LA's golden era. We won't blame you if you don't want to leave the bed à la John and Yoko.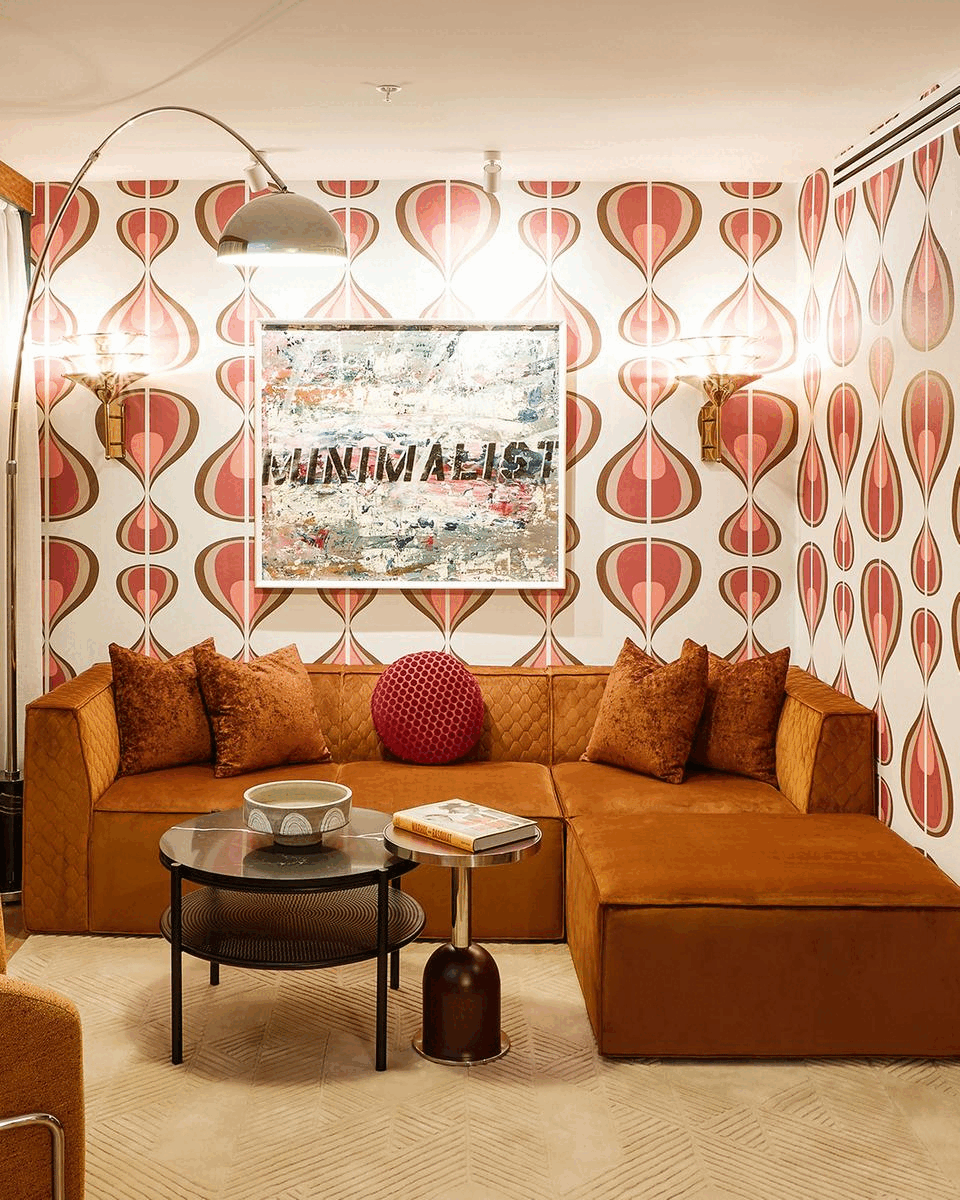 Indulge In All The Free Perks
From day one, Ovolo Group founder, Girish Jhunjhnuwala, wanted his hotel guests to have all the perks effortlessly included—as they should be. As such, you get all kinds of inclusions with your stay that'll have you saying 'groovy, baby'. We're not just talking free super speed wifi. We're talking complimentary breakfast, free minibar, 24hr gym, all-day snacks, and self-service laundry. Every afternoon is party time with social hour drinks from the bar—just another reason to book your ultimate staycation.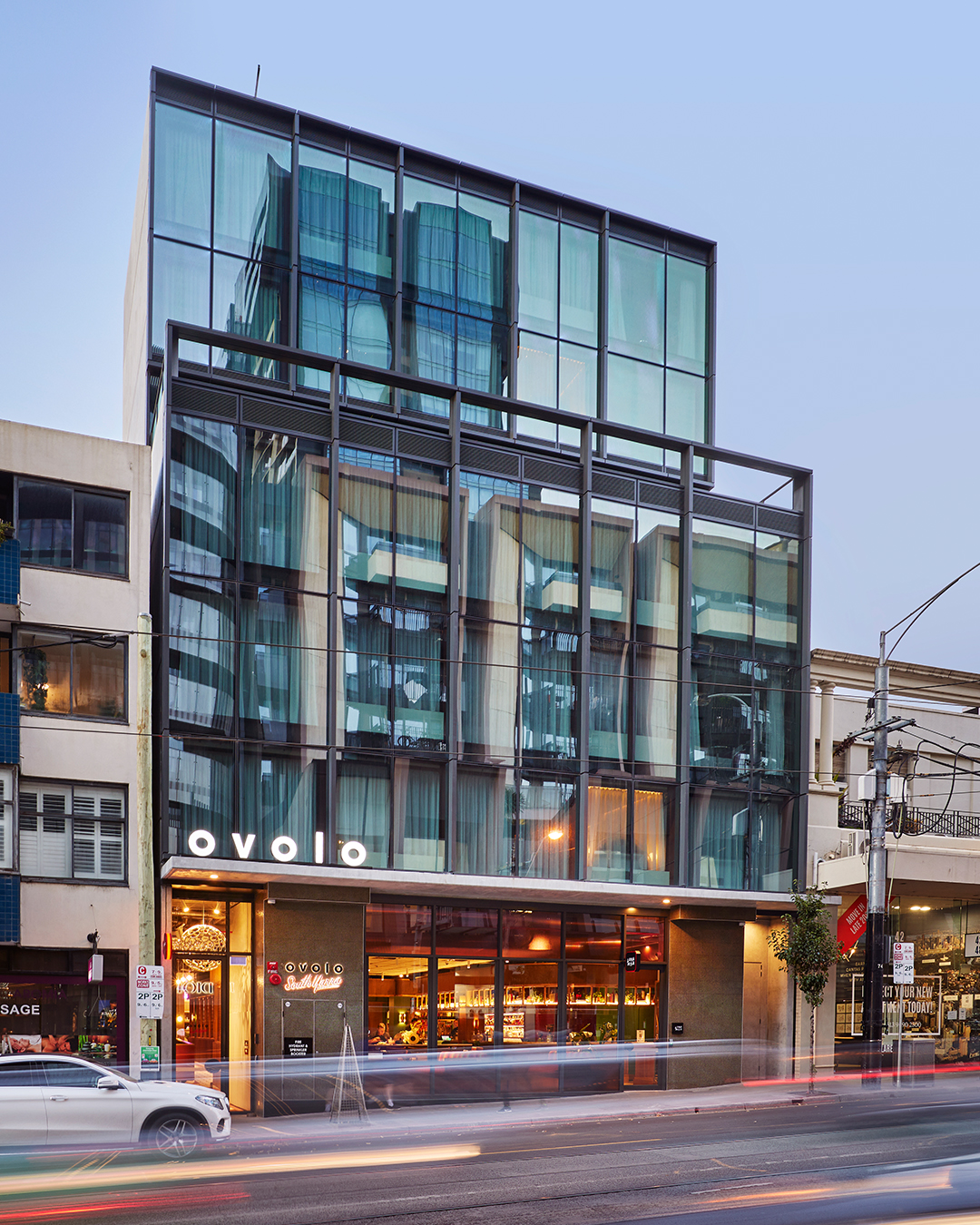 Have Your Staycation In The Heart Of Melbourne's Most Stylish Suburb
Just when we thought it couldn't get any better, you'll also be staying in the heart of South Yarra, a stone's throw from the corner of Toorak Road and Chapel Street. Only a short train ride from the city, an easy twenty-minute walk to the Botanic Gardens, and a quick tram trip to Prahran Market—a must-visit for any foodie—it's the prime location to base yourself on a weekend of adventure.
A hub of art, design, comfort, and cuisine—it's all there waiting for you to enjoy. So treat yourself and book in now for a groovy staycation at Ovolo South Yarra. Be one of the first to experience the new spot and head here to score 30% off your stay—for a limited time only.
Editor's Note: This article is sponsored by Ovolo South Yarra and proudly endorsed by Urban List. To find out more about who we work with and why read our editorial policy here.
Image credit: supplied.