With summer finally here and a long built-up traveller's itch to scratch, we're all looking for ways to spend weekends or to escape for getaways over these warmer months. With world-renowned beaches, iconic sights, lush surrounding national parks, beautiful weather and an outstanding drinking and dining scene, there's no better place to be this summer than Sydney and NSW.
But if you're looking for more motivation to travel interstate this summer, NSW and its capital city are offering a few more reasons to jump on a plane or go road tripping. From big sporting matches and world-class exhibitions to festivals and Broadway theatre productions, you can reclaim your time off and renew your summer by visiting Sydney and NSW to attend some world-class events.
Here are 11 events and experiences in Sydney and NSW to add to your summer holiday itinerary.
Great Southern Nights
If there's something we sorely missed through two years of yo-yo lockdowns, it was relishing live performances. Dancing around, jumping up and down, singing out loud and getting sweaty with strangers, this summer sees the glorious returns of live gigs, and we couldn't be more thrilled. You can get amongst the celebration in a big way across NSW with Great Southern Nights. Running from 18 March to 10 April, you can catch performances like Peking Duck in Byron Bay, Client Liaison in Gosford, Daryl Brathwaite in Cammeray, Alex Lahey in Newcastle, Baker Boy in Wollongong and Courtney Barnett in Enmore. Don't miss this state-wide showcase of local talent, and grab your tickets here.
Sydney International Art Series
Culture is back on the menu this summer, and there's no better way to get amongst it once more than through the 2021/22 Sydney International Art Series. An initiative from the NSW Government, the series is taking place over the summer across the Art Gallery of New South Wales and the Museum of Contemporary Art Australia. Major focusses of the series include over 100 works from famed French painter Henri Matisse and a showcase of contemporary American artist Doug Aitken.
Elevate Sydney
In excellent post-lockdown news, the NSW Government announced that Sydney's Cahill Expressway would be transformed into a pedestrian-only, multi-day party held between Saturday 1 January to Thursday 6 January. Not just a great spot to hang out in the sun with a couple of drinks, Elevate Sydney will feature 180 live performers, including Tones And I, Tim Minchin, Electric Fields, Baker Boy, L-FRESH The LION, Ngaiire, and more. The elevated Cahill Expressway, which cuts between the harbour and the city, just so happens to be one of the best vantage points around for a bang-on view of the Sydney Harbour Bridge and the Sydney Opera House. Best of all, tickets are free, and you can register for them right here.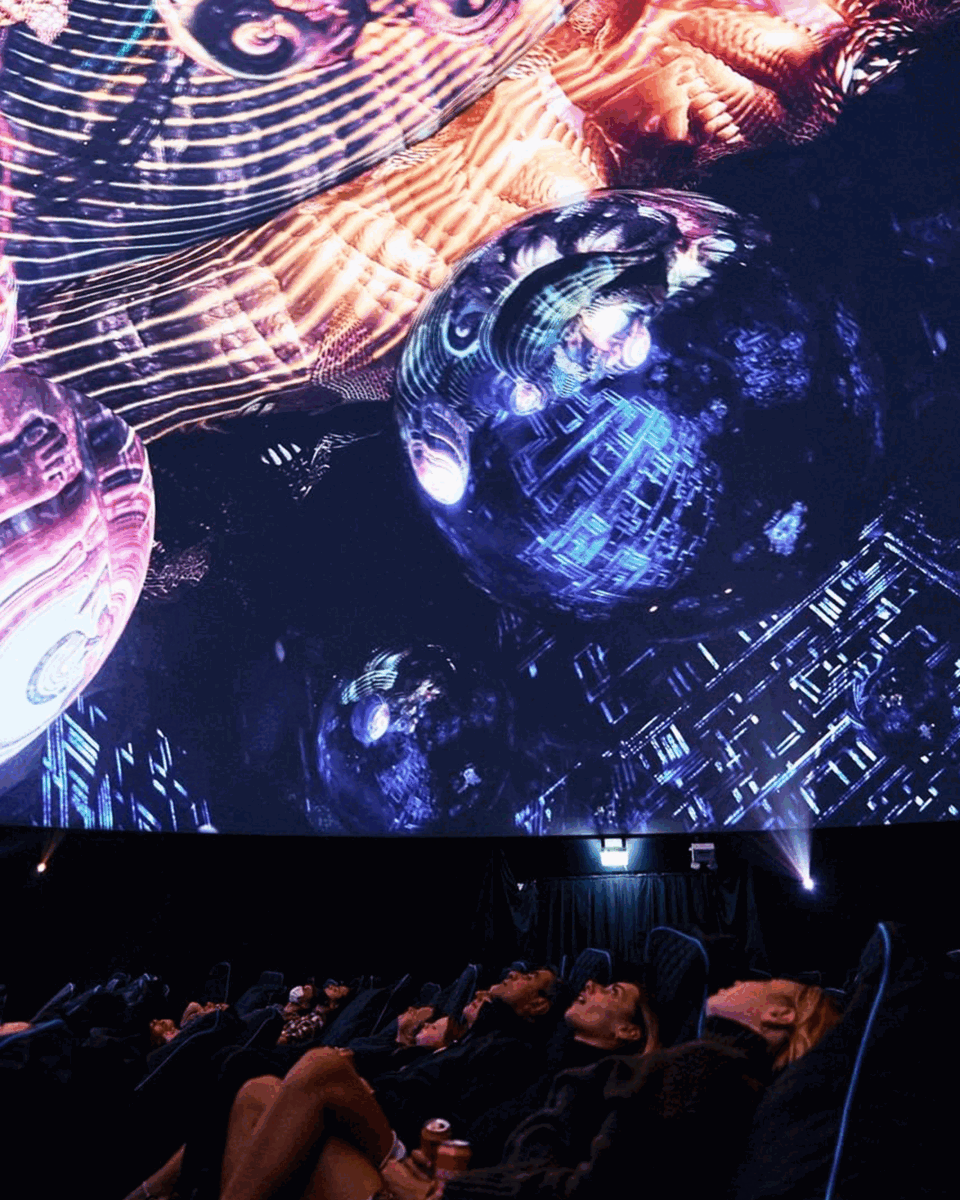 (Image credit: Wonderdome Instagram, Mardi Gras by Jeffrey Feng and Enmore Theatre DNSW).
Wonderdome
If you're looking for an out-of-this-world experience–make sure you add Sydney's Wonderdome to your getaway itinerary. Playing through December and January, Wonderdome is a 360-degree dome theatre transporting you with immersive visuals and unique technologies blurring the boundary between digital and physical. Essentially, creating an alternate reality experience without any goggles. Experience art, film and music like never before at the Sydney Entertainment Quarter. Buy your tickets here.
Girl From North Country
First selling out seasons on London's the West End and NYC's Broadway, Girl From North Country is now gracing Sydney's stage as part of 2022's Sydney Festival. The critically acclaimed production, written and directed by Irish playwright Conor McPherson, follows an encounter of wanderers in a 1930s Minnesota guest house. With music and lyrics written by the great Bob Dylan, make sure you jump on tickets to this limited season here at Sydney's Theatre Royal.
Sydney Festival
If you're looking for culture in the heart of the city, be sure to get involved in Sydney Festival this summer. 133 events over 25 days (6 – 30 January) are taking place across Sydney indoors, outdoors and online, including musical performances, pop-up shows and installations. Launched back in 1977, this year's festival includes big-name musicians like Australia's The Cat Empire and Amyl And The Sniffers, as well as New Zealand's Fat Freddy's Drop. You can also catch the Sydney Symphony Orchestra playing under the stars in a free Parramatta Concert and art installations like the 2.7 tonnes of melting iceberg that will hang suspended above Sydney Harbour throughout the festival. Check out the full line-up here.
ATP Cup
When it comes to the Aussie summer of sport, we have our minds on two things: cricket and tennis. If you're in town between 1 – 9 January, book yourself a seat at the upcoming ATP Cup being played at Sydney Olympic Park. With 16 countries competing, you can expect some of the best mens players in the world descending on Sydney, like world number 3 Alexander Zverev leading the German team, world number 4 Stefanos Tsitsipas leading the Greek team and young Aussie Alex de Minaur headlining the Australian team. Secure your tickets here.
Sydney Gay And Lesbian Mardi Gras
If you've never had the pleasure of being in Sydney for Mardi Gras, this is the year to fix that. While festivities take place between 19 February and 7 March, the Mardi Gras parade on Saturday, 5 March is not only one of the best nights on the Sydney calendar but one of the wildest annual events in Australia. Once again, this year's parade will not take place through Oxford Street, the spiritual home of Sydney's LGBTQIA+ community, but instead the parade and party will grace the Sydney Cricket Ground for a colourful night of celebrating pride and inclusion. You can keep the party going as the Official After Party takes over nearby venues Hordern Pavilion, Max Watt's, Watson's and The Entertainment Quarter. Buy tickets to the parade here.
Summer Of Cricket
There's nothing quite like securing yourself a seat to Sydney's New Year's Test this summer as the Aussies take on the English for one of the most sought-after trophies in Australian sport—The Ashes. There are still a few remaining tickets to the Pink Test, otherwise, both the men's and the women's teams are playing a slate of ODI and T20 matches across January and February, with some held at the Sydney Cricket Ground and North Sydney Oval. Check the full schedule and buy tickets here.
NRL All Stars
As we await the return of NRL in 2022, Sydney is incredibly fortunate to be hosting the 2022 All Stars game between the Australian Indigenous All Stars and the New Zealand Maori All Stars. For the first time hosted by the Harbour City, the clash sees some of the league's best players face off in a competitive celebration of Indigenous culture on 12 February at CommBank Stadium. Get your tickets for the game right here.
Hamilton
It's pretty unlikely you don't already know all about Hamilton the musical, which took Broadway by storm in 2015 and has been making the global rounds ever since. And this summer, you can finally see Lin-Manuel Miranda's Tony, Grammy, Olivier and Pulitzer prize-winning show live before it leaves Sydney. Brilliantly subverting classic theatre by blending hip-hop, Jazz and R&B, the musical tells the story of founding father Alexander Hamilton's life and role in the American revolution. Buy tickets here to see the incredible Australian cast bring this acclaimed story to life.
For more information on how to have a Feel New Summer in Sydney and New South Wales, visit visitnsw.com or sydney.com.
Editor's note: this article was produced in partnership with Destination New South Wales. Thank you for supporting the partners who make Urban List possible. To read our editorial policy, click here.
(Hero image credit: White Rabbit Gallery, DNSW).