At the end of the Great Ocean Road, surrounded by green hills, Norfolk pines and photogenic cows, you'll find the little fishing village of Port Fairy. This place is the last destination on Victoria's famous Shipwreck Coast, built on the mouth of the Moyne river, about four-hours' drive from Melbourne. An artsy community with strong Irish roots (back in 1835, the town was known as 'Belfast'), Port Fairy is home to barnacled fishing trawlers, craft stores, bluestone churches, about 40,000 migrating shearwaters and the annual Port Fairy Folk Festival.
Not only that, Port Fairy is also bursting with rich food culture, epic scenery and unique accommodation that serves as the perfect home base to scope out other nearby landmarks like Worngundidji Tower Hill, Cape Bridgewater, UNESCO Budj Bim and Warrnambool Hot Springs. This is our ultimate Port Fairy Guide. Everything to eat, drink, see and do in Victoria's cutest and most eclectic country town.
Where To Stay
Oak And anchor
If you're looking for Port Fairy's newest boutique hotel, look no further than Oak & Anchor Hotel. This beautiful old building has recently undergone a facelift from husband and wife couple Blair and Sally, producing a stunning end result while still maintaining its original character. It even has its very own bar, so you can end your day of exploring with a nightcap before retreating to your room.
Merrijig Inn
The Merrijig is one of Victoria's oldest surviving hotels. It's been running as an inn-slash-police-barracks-slash-courtroom since 1853, and it's a good choice if you want to absorb some old-school Port Fairy history. The location is great, too, just opposite the wharf, and close to all the main cafes and galleries. Try the famous 'Attic Rooms' for extra period charm.
Seacombe House
It's actually quite hard to stay somewhere in Port Fairy that wasn't built before the introduction of the metric system. Seacombe House is another classic example. Since opening its doors in 1853, it's been used as banking chambers and borough offices. Now it's a collection of heritage four-star apartments, complete with spa baths and widescreen TVs. Nice.
Hearn's Beachside Villas
Hearn's is a nice alternative to your classic Port Fairy accommodation. For one thing, it wasn't built in the 19th century. It's also just out of town, tucked into the sand dunes near the Anna Catherine Reserve. That means you get views of the Southern Ocean all to yourself (keep an eye out for southern right whales during the winter months).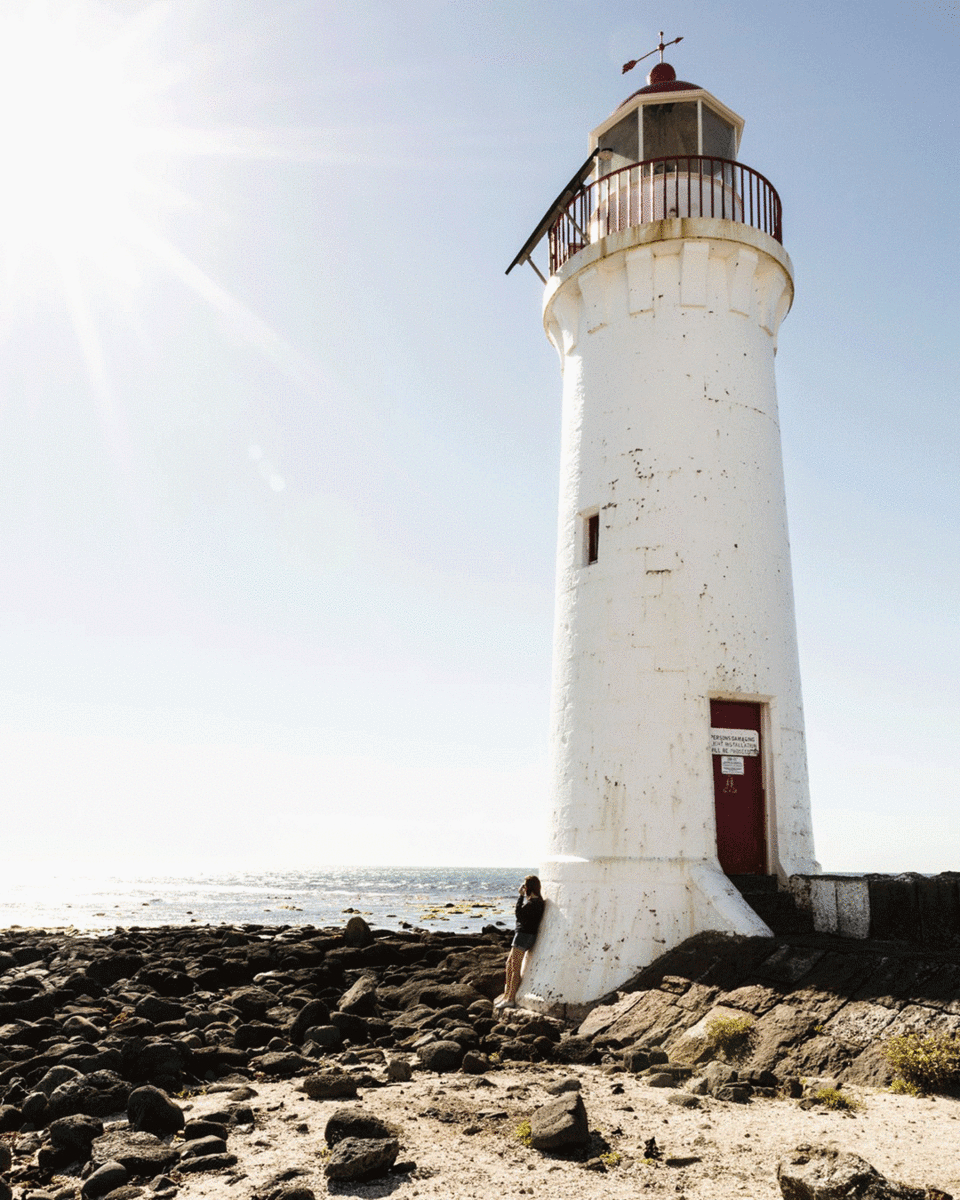 Things To See & Do
Port Fairy
GRIFFITHS ISLAND LIGHTHOUSE
Port Fairy Lighthouse on Griffiths Island is one of the town's historical landmarks. It was built in 1859, when this windswept little spit was known as Rabbit Island (ten guesses why). The old Keeper's houses were demolished in the 1950s, but you can still see the ruins where the family used to live. Wait until sunset (or get up early and visit at dawn), and tackle the circuit walk. It takes about 80 minutes.
WHALE WATCHING
Port Fairy is part of what's known as the Winter Whale Trail. Every year, between May and September, southern right, humpback and blue whales journey for thousands of miles to give birth off the Victorian coast. You can spot them from the Warrnambool breakwater, or the shores of Griffith's Island (there's also a handy coastal map, with more specific info).
PORT FAIRY GOLF CLUB
About 5km out of town, high on the coastal dunes, you'll find one of the most stunning links courses in Australia. And hardly anyone knows it's there. Welcome to Port Fairy Golf Club, also known as bring-plenty-of-spare-balls. This place is often voted in the Top 50 public courses in all of Australia, with epic sea views…and some rather extreme southerly breezes. Maybe leave your driver in the bag.
TOWER HILL WILDLIFE RESERVE
There's plenty of wildlife on Griffith's Island in Port Fairy (keep an eye out for shearwaters, echidnas, wallabies and, err, tiger snakes) but Tower Hill Wildlife Reserve takes nature spotting to the next level. It was actually Victoria's first ever National Park, opened in 1892, sitting inside an extinct volcano crater just near Koroit. Join a Worn Gundidj guided tour and check out emus, koalas, echidnas and kangaroos.
Portland & Cape Bridgewater
PORTLAND HARBOUR
Portland is even further from Melbourne than Port Fairy, and it's a real shame many people never bother to make the effort. But hey, if you've come this far, hop in the car and drive 50 minutes further west. You'll find one of Victoria's cutest historical centres, and the epic Discovery Bay Coastal Park: 50-odd kilometres of wild ocean beach, covered in Indigenous middens, giant sand dunes and coastal lakes.
the blowholes lookout And WALK
Located on the western side of Cape Bridgewater (and just 15 minutes from Portland), you'll find the the stunning "Blowholes" lookout and walk. This place is certainly worth the journey with panoramic ocean views and a sweeping outlook of Discovery Bay and its brilliant white sand dunes.
PETRIFIED FOREST
The petrified forest is then just a 10-minute walk on a flat path from The Blowole the lookout. The forest was formed when Moonah trees were buried under drifting sand and the outer shell of sandstone formed with moisture and the enveloped trees rotted away. Winds have now eroded these structures leaving petrified remains up to 1.5 metres in height. A sight that needs to be seen to be believed.
spot a seal
If there's one thing we can almost guarantee you'll spot in Cape Bridgwater, it's a seal. Embark on the Cape Bridgwater Seal Walk and climb south along the coastal cliffs for 2.5 kilometres. Then prepare yourself for the ultimate viewing platform directly above the largest seal colony on the Australian mainland — you'll want to have your camera ready. Keen to get closer? The 'Swim with the Seals' experience allows you to get up close and personal with Australian and Long Nosed Fur Seals in the ultimate snorkeling adventure.
Warrnambool
WARRNAMBOOL BREAKWATER
Without the Warrnambool Breakwater, there wouldn't really be a Warrnambool. It was built in 1890 to provide a safe harbour for ships (in those days, Warrnambool handled more cargo than Port Melbourne). These days it makes a great walk a sunset, as the sky lights up over Thunder Point. There's good surf fishing on the Breakwater, and keep an eye out for seals and sting rays cruising in the shallows.
Worngundidji Tower Hill
Located between Warrnambool and Port Fairy, this giant maar or volcanic explosion crater is of international and national geological significance. Embark on a 90-minute interactive walk conducted by experienced guides, and learn about the unique re-vegetation program of the Park while keeping an eye out for an abundance of wildlife.
WARRNAMBOOL Hot Springs
If all this exploring has left you in need of some TLC, you'll be pleased to know that Warrnambool Hot Springs will have you sorted with their health-restoring minerals and heat of the natural earth drawn waters as you slowly make your journey through fifteen thoughtfully curated bathing pools. Whether you're basking over basalt stones or relaxing in the shallows of the reflection pool for quiet contemplation — you'll have everything you need in this open-air sanctuary. And if you're feeling too relaxed to leave, you can spend the night at their luxurious onsite hotel, Deep Blue Hot Springs.
CHILDERS COVE
Imagine the sandstone cliffs of the Twelve Apostles and the crashing breakers of the southern ocean, but without the busloads of tourists. That's pretty much Childers Cove—a sheltered, half-moon bay south-east of Warrnambool. Pick a sunny day, pack some lunch, slop on plenty of SPF50+ and enjoy one of the Bay of Island's best kept secrets. Chances are good you'll be the only one there.
Surrounding Areas
Budj Bim National Park
Having recently been added to the UNESCO World Heritage List, recognised solely for its Aboriginal cultural values, Budj Bim National Park (Located just 40 minutes drive from Port Fairy,) is a must-visit when visiting the Great Ocean Road. Loaded with natural wonders from the ancient, volcanic landscape, Budj Bim National Park is home to a tranquil crater lake, lava canals and caves in a lush bushland setting. Whether you're keen to enjoy a relaxing picnic, camp, or walk among Manna Gums teeming with native wildlife — there's no shortage of things to marvel at in this culturally rich and historical landmark.
Where To Eat & Drink
The whole Port Fairy region, from Warrnambool to Portland, is known for one thing: produce. This is good grazing country, with artisan cheeses, organic meat, fresh-caught seafood and cool-climate wines around every picturesque, cobblestoned corner. Over the last 10 years, gentrification has wormed its way westwards from Melbourne, too, which means good espresso is never far away.
NOODLEDOOF BREWERY KOROIT
With one of the best brewery names going around, Noodledoof is well worth the short drive to Koroit. Just remember to bring a designated driver. Owners Sam Rudolph and Alex Carr have converted the former McMahon's Garage into a slick brewhouse, complete with rotating tap list, growler re-fills, and home-distilled gin and vodka. Check out the sweet merch while you're there, too.
BANK STREET & CO CAFÉ
There are plenty of great cafes in town, particularly along Bank St and Sackville St, but Bank Street & Co is probably the pick of the bunch. Ricky and Matt always put on a good spread, and the menu tends to flow with the seasons, serving up whatever's local and fresh. Try and snag a table up near the window, and save room for one of the guys' homemade apple-banana muffins.
COFFIN SALLY PIZZA
Genuine knockout pizza, served up by impossibly cool, laid-back 20-somethings, who all seem to live in a converted loft above the shop (we're guessing). Coffin Sally is the default Friday night grub for half of Port Fairy, and never fails to win-over Melbourne day-trippers. The mushroom pizza with wild mushrooms, pancetta, thyme and taleggio is easily their best.
BASALT WINERY
Port Fairy might not be the Barossa, but that doesn't mean you can't find a good local drop. The Portland Wine District sits on rich, volcanic soil, and several biodynamic vineyards have sprouted here over the years. Basalt is our personal favourite. The restaurant and cellar door are super cute, and the cool climate and sea breezes make a cracking Tempranillo.
CHEESE WORLD
We couldn't forget a place called Cheese World, right? This is actually the cellar door of the Warrnambool Cheese and Butter Factory, which has been pumping out award-winning cheddar, cracker barrel and Mil Lel cheeses since 1888. There's a café on-site, where you can grab a light lunch, and a pretty interesting factory tour, but the big draw here is the free cheese tastings.
Whether it's a visit to a legendary brewery, or simply taking in the stunning scenery, there's plenty to see and do on a trip to the Great Ocean Road. Click here for more info and to start planning your trip.
Image credit: Britt Gaiser
Editor's note: This article is sponsored by Great Ocean Road and proudly endorsed by Urban List. Thank you for supporting the sponsors who make Urban List possible. Click here for more information on our editorial policy.