Chinese in Melbourne generally goes one of two ways. The first is a stroll up Chinatown for a brief sit down, get served and then get going feed that'll cost you next to nothing. And the second takes a more traditional route in formal diners often looming several floors up from the mayhem on Little Bourke Street.

There are, however, more contemporary and casual options suitably tucked away in the side streets of Melbourne, and leading the way is Tian38, a new school Chinese restaurant from Jamu Dining's Kha Nguyen and Nic Soon of Sydney's infamous Ms G's.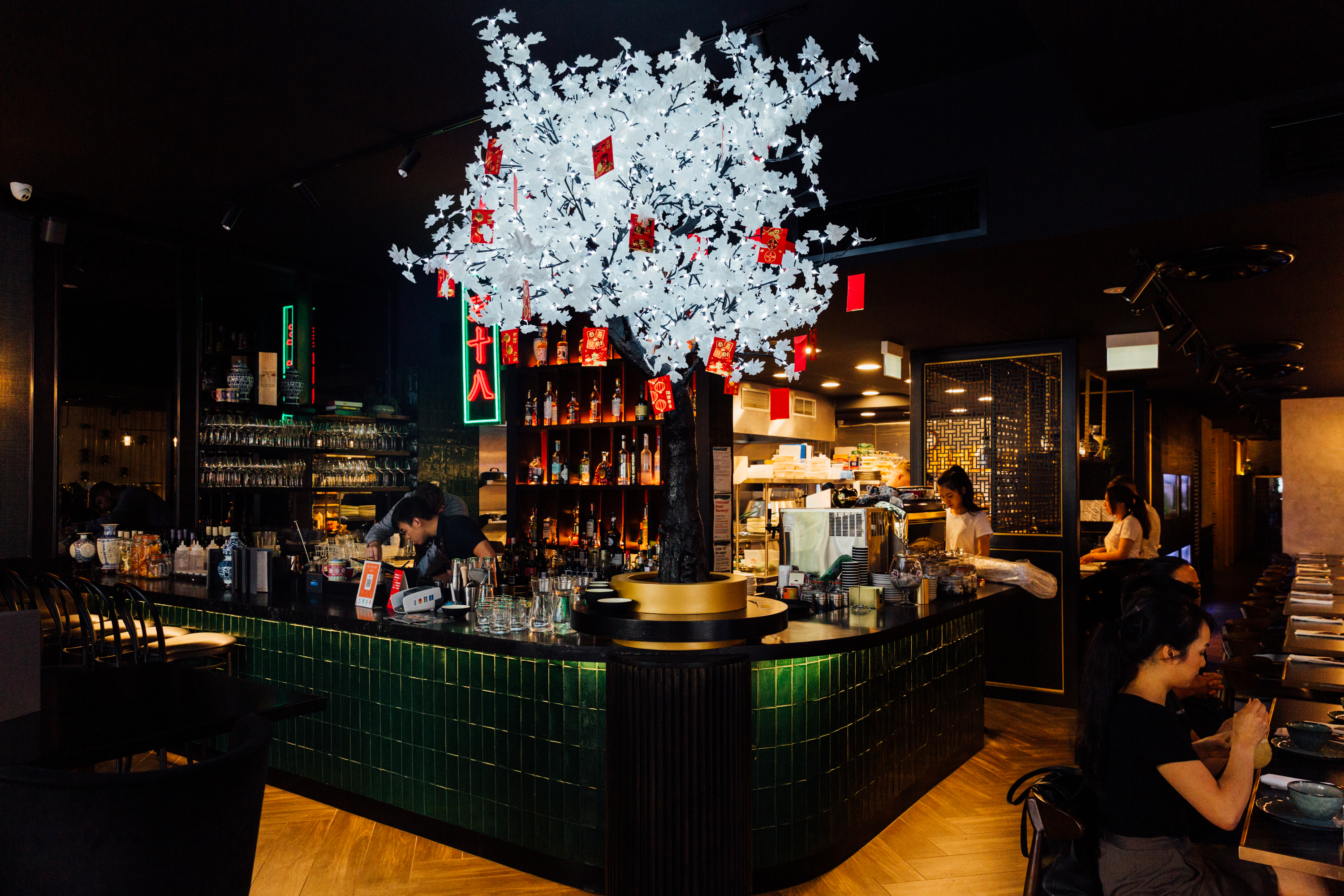 The menu departs itself from the conventions immediately with a chilli crab toastie. The flavours are reminiscent of everything there is to love about Chinese food—like chilli, and crab—while still feeling like something completely different to what's expected from the cuisine. The prawn tobiko sando, or prawn toast, provides a second reason to deep dive into the menu here.
For that plate of veggies on the side, the kung pow cauliflower offers a kick of bold profiles courtesy of the caramelised black vinegar sauce, chilli and capsicum. Vegetarians and omnivores could easily take this one as a main considering its serving size.
Several speciality roasts subtly remind you you're in a Chinese restaurant. Take your pick from the wood-smoked Peking duck, a barbecued char siu Kurobuta pork that's seasoned with raw Australian honey, and the Hainan free-range chicken that deserves a side of the house-made Hainan chicken stock and garlic infused rice—if decisions sound too hard at this point, go for the trio of roasts which should lessen the FOMO effect.
Over at the neon-soaked bar, you'll find a cocktail collection with options to complement every dish, although the Hainan Breeze—a refreshing mix of white rum, banana liqueur and coconut water—provides a quenching balance to even the heaviest plates on the menu. If you'd rather have your food and drinks paired for you, there are several recommended matches thanks to Mandala Wines.
The space itself nods to the nuances of Chinese Restaurants you'd probably recall from our childhood, but with a refined touch that'll withstand Melbourne's exceptionally high standards. Think neons, ornamental flourishes, fish tanks and private dining rooms primed for lengthy discussions over the extensive cocktail list.

Aesthetic plays a large part in the Tian38 experience, which is why you'll often find the dishes as striking as the interior. Case and point being the taromisu dessert, a stunning Chinese(ish) iteration of tiramisu, made with taro. Make sure you save room for it.
THE DETAILS
What: Tian38
Where: 350 Flinders Lane, Melbourne
Stay up to speed with the latest openings around Melbourne on our New Eats section.
Image credit: Annika Kafcaloudis