After several cultural pauses over the past 18 months, summer in Melbourne is coming in red hot with a swath of reopenings, reawakenings and new openings. The latest, that'll no doubt be gracing our social calendars for months to come, is Tippy-Tay, an exuberant Italian diner hidden within the city's cherished pub/bar/labyrinth that is the Garden State Hotel.
First thing's first, yes, the rumours are true. There are several negroni buttons within arm's reach from the booths; hit that thing and a negroni fountain arrives at your table within minutes.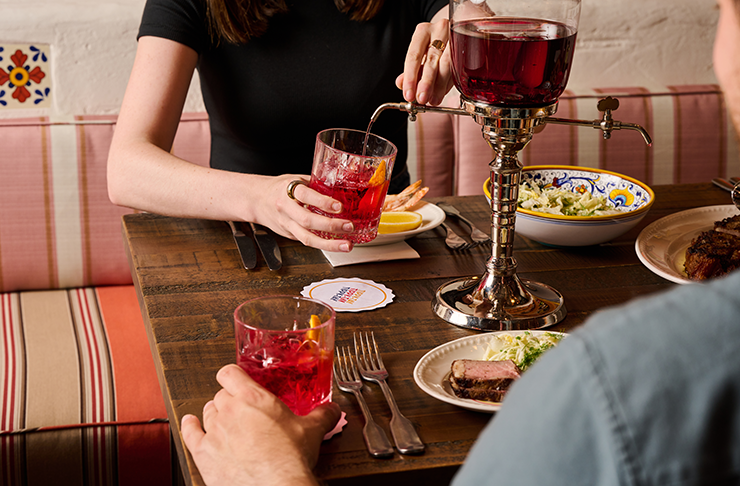 We love to see it, however, Tippy-Tay is far from a one-trick pony. The detail on the fit-out, that negroni button, and the menu is something to marvel at. The commitment to the theme can first be seen in what's plated up in front of you with a 600g Bistecca Fiorentina (a Tuscan-style T-bone steak) as one of the hero dishes; this one's of course challenged by the to-be crowd favourite known as 'last night's lasagne'. It's all been curated by Garden State's head chef Dylan Evans, who's worked with Ashly Hicks (Executive Chef at sibling venue The Espy) on those hefty numbers right down to those starters. Hello cacio e pepe arancini and pork cotoletta.
"We wanted to create delicious, shareable dishes where people can enjoy all that's good about Italian food—the theatre, the mess and the fun of a simple, well-executed meal," says Dylan.
Meanwhile, on the booze front, Sommelier Matt Skinner (formerly of Jamie Oliver's 15) heads up a considered wine list leaning on Italian varietals that'll match up quite nicely before or after Tippy-Tay's signature takes on Margaritas, negronis and gin & tonics.
"You'll find Italy's best wines, alongside Australian producers who've pioneered and championed the cultivation of Italian grape varieties locally. Think Sauvignon Blanc from Marlborough, Chardonnay from the Yarra Valley or Shiraz from McLaren Vale,' Matt said.
Prefer a palate cleanser? They've got their own version of that, too; an exclusive limoncello created in partnership with Adelaide Hills winery Unico Zelo. Look for the Tippy-Tay x Unico Zelo limoncello atop the dessert carts passing by your booth.
Tieing up the tidy package is the interior. Highlights include the 3000 vintage booze bottles lining the walls, rattan-wrapped furnishings and festoon lights adorning the ceiling which all come part and parcel as a nod to the venue's Italian inspiration. Behind the brief was the same all-star team who reimaged The Espy; stylist and designer Eleisha Gray, Techne Architects and Ayus Botanical, so you know it hasn't been done by halves.
Tippy-Tay opens Thursday 11 November. Bookings are open now.
And yes, you should hit that negroni button at least once.
Plenty more movements in Melbourne's hospitality scene. Check them out here.
Image credit: Pete Dillon