196 Below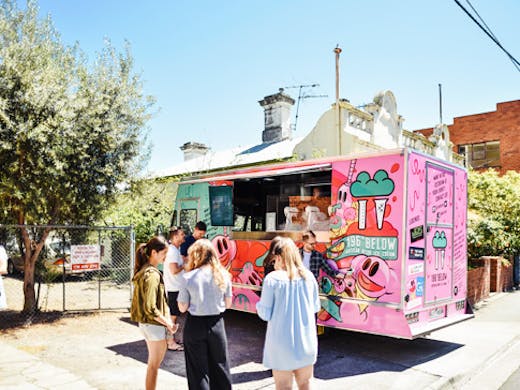 The Verdict
Get your 'gram finger ready, guys. This place is doing some pretty freaky stuff.
If you haven't heard of them before, 196 Below is basically a food truck that slings liquid nitrogren ice cream, made to order. You'll find them at festivals and markets all over town, especially when the weather is good.
Co-owners Steve Felice and Glenn Storey scraped their pennies together to get their dream food truck going, and they've been going from strength to strength ever since, busting out zany new creations, inventing screwy new flavours. There's a bit of theatre too—when you order your cup, the team crack the liquid nitrogen vats, and super-chilled smoke pours everywhere.
Every ice cream is made from top-quality dairy, packed with flavour and homemade toppings. And it gets better—all the sorbet options are vegan and lactose-friendly. So there's really no excuses, right? Of course, they don't just do ice cream. Doughnuts, cronuts, ice cream sandwiches and shakes are often on the menu. Steve and Glenn like to mix things up, so chances are good you'll get to sample some crazy new flavour combo.
Their newest invention? A neon range of ultraviolet, glow-in-the-dark ice creams and doughnuts. Seriously, does it get any more instaporn than this? The treats are made with the same chemical used for blood-flow tracing in medical diagnoses. Sounds weird, but we promise you it's delicious. The completely non-toxic chemical makes these ice creams and doughnuts glow under UV lights. Which (of course) the team just happen to have on stand-by.
Want to know where to find the truck? Have a look at the 196 Below website or check 'em out on Instagram.
Image source: Ben Tyers
---