400 Gradi | Mornington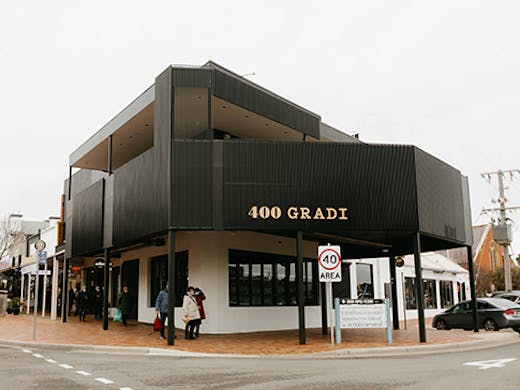 The Verdict
When Johnny Di Francesco decided to drop out of university and pursue his passion for pizza and Italian food, he probably didn't think he would own one of the greatest Pizzerias in the world—let alone several. Johnny's ambition has led him to open eleven Gradi locations around Australia and abroad, making him a household name and scoring him multiple award-winning moments on the global stage.
All of this ambition has culminated in the opening of 400 Gradi Mornington. This restaurant will take up two floors of a spacious corner building on Main Street of the coastal hub. The building will include a Zero Gradi Gelateria, a dessert bar and Gradi Mercato, their Italian deli, housing all of the Gradi concepts in the same place for the first time ever.
The food here is up to a consistent, world-class standard with a hefty menu of pizza specialities, there's everything you expect from one of Johnny's Gradi outlets. Due to its seaside location and proximity, there will be a special seafood menu appropriately named 'Al Mare', taking advantage of the area's fresh local produce.
The space that homes this legendary culinary chain is airy and casual, earthy tones and classic Italian furnishing offsets a spacious bar and dining area. Customers are free to roam around the downstairs deli and gelateria or to wander up to the top floor, for some Antipasti and a glass of wine accompanied by views of the bay.
400 Gradi Mornington offers the best both Australia and Italy have to offer, taking strong, perfectly balanced Italian flavours and importing them to this stunning Australian location.
Image credit: supplied
---