8 Murray Street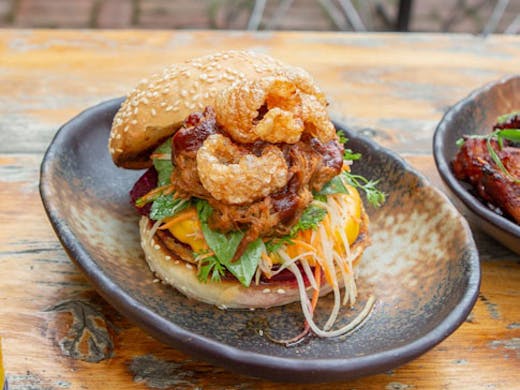 The Verdict
8 Murray Street aims to slow the hustle of Melbourne's fast-paced brunch scene through their charm, warmth, and unique take on a Melbourne brunch experience.
Located in Abbotsford, 8 Murray Street provides a distinctive experience, complimenting their diverse breakfast and lunch menu with their café atmosphere. Ranging from their Sticky Pork Burger (talking all things pork crackle) to their vegan banana bread, this menu will help satisfy any craving you have.
Enjoy your burger among the trees in their outdoor courtyard or snuggle up with a book and coffee in a little indoor nook. With a range of cocktails, wines and beers on offer, or delicious non-alcoholic drinks like smoothies, juices and coffees, there really is no excuse to stay home.
Whether you go by yourself, with your friends or with your dog, 8 Murray Street won't disappoint. Be sure to check out their bottomless brunches, 2-for-1 cocktail days and free birthday breakfasts while you're there.
Image credit: Supplied
---