A25 Pizzeria | South Yarra
CONTACT
Ph: 03 9826 2233
Visit Website
720 Chapel Street
South Yarra, 3141 VIC
Show on map
closed
---
Opening Hours
| | |
| --- | --- |
| SUN | 11:30am - 10:00pm |
| MON | 11:30am - 10:00pm |
| TUE | 11:30am - 10:00pm |
| WED | 11:30am - 10:00pm |
| THU | 11:30am - 10:00pm |
| FRI | 11:30am - 10:00pm |
| SAT | 11:30am - 10:00pm |
---
The Details
Cuisine
Need to Know
Child Friendly
Good for Groups
Serving
Dinner
Late Night
Take Away
---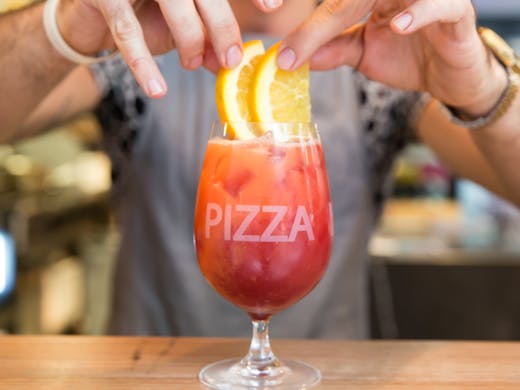 the verdict
Whether you're in for a quick bite, or sitting down to a multi-slice feast over a few drinks, pizza is one thing that we absolutely refuse to compromise on. The crust has to be perfectly crispy, the dough light but not soggy, and the toppings pimped to perfection! Which is why we're so head-over-heels with the slices we've found at A25 Pizzeria, the South Yarra Italian restaurant that's drawing from old-school techniques and the latest food trends to serve up pizza and pasta with a modern twist.
When it comes to creating the perfect pizza, Italian-born Remo Nicolini and the team at A25 Pizzeria are all about quality ingredients, culinary innovation and a dash of crazy new ideas. Open for dinner, seven days a week, and with the new addition of a heated, umbrella covered outdoor dining area, the playful pizza, pasta and antipasti venue specialises in freshly made dishes that change with the seasons. From traditional Napoli-style pizza to eye-popping squid ink and matcha creations, everything is tried and tested by the team, making sure it meets their exacting standards.
Thankfully, for our second dessert stomachs, A25 is not only about savoury creations. The sweets menu includes home-made cannoli, an indulgent tiramisu, rosewater and blueberry pannacotta, and mouth-watering dessert pizza that comes topped with Nutella, fresh berries and vanilla bean ice-cream. Stuck for a drink to pair your final course with? Of course, there's an Espresso Martini on the menu, but we'd also recommend the Bunga Bunga On The Beach—a cheeky vodka and peach blend that nods to ex-Italian Prime Minister Silvio Berlusconi's, erm, colourful lifestyle!
While you might see some curiously delicious creations on the menu—the quirky L.S.D (that's liquorice, sausage and dates) is an incredible, if unusual match!—what lies at the heart of A25 is a passion for flavoursome pizza that *doesn't* leave you feeling stuffed full of heavy carbs. In Italy, people eat this stuff everyday, after all, so why shouldn't us Melburnians be able to do the same?
Need an excuse to make a trip to this Italian gem? All pizzas are $13 on Mondays, and pastas are $13 on Tuesdays, making it as pocket-friendly as that dirty take-away you shouldn't be eating. So, ditch those preconceived notions about pizza being cheat food, and get yourself to A25's southside location.
> Book a table by calling 03 9826 2233
Image credit: Jenna Fahey-White for The Urban List
---