Agostino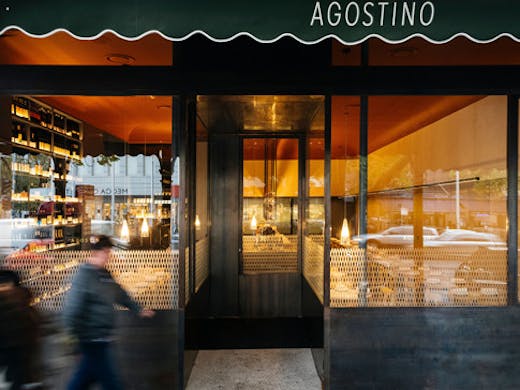 The Verdict
Travel to Italy for the night with Carlton's new 50-seat wine bar, shop and cellar.
Located in the newly refurbished King and Godfree building, Agostino brings Italian culture to its home away from home on Lygon Street. Working with local architect Chris Connell, materials and textures have been carefully crafted and selected to recreate the feel of traditional eateries of Italy. The alluring atmosphere of prestige, warmth and homeliness will pull you through the door and provide you with an authentic experience to share with your family and friends.
Agostino's Italian heritage is further extended into its short and sharp food menu. Through a mix of traditional and modern, Italian and Australian, Agostino brings you a unique and diverse menu filled with pasta, oysters and bread pappardelle with rabbit ragu. Don't even get us started on the extensive drinks Agostino has to offer.
With fine wines that have been cellared at King and Godfree years before its renovations, Agostino invites you in for an invaluable experience for the night. Drinks range from cocktails to wines to whiskey and their retail wine shop also invites you to select and even drink in. At retail price plus $20 corkage, it'll be an effortless affair to just sit back, absorb and enjoy the atmosphere.
If you're looking for a good location for wine tastings, book launches or private parties, Agostino is the perfect place for you to impress your friends, work colleagues and family. So, let them transport you to a night you definitely won't forget.
Image credit: supplied
---