Al Dente Sapori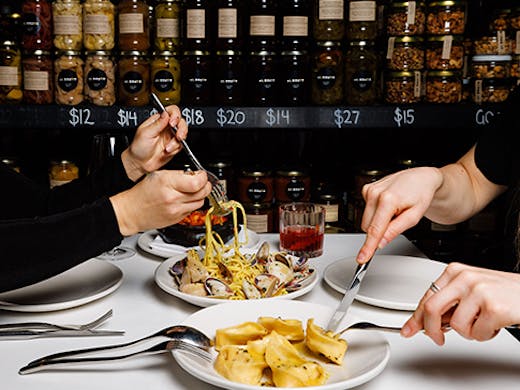 The Verdict
They don't call Carlton the 'Little Italy' of Melbourne for nothing; if you're looking for authentic, decadent Italian food you don't have to look too far. Appropriately upon opening, Al Dente Enoteca situated itself on Nicholson Street and quickly made a name for itself by serving up inventive yet familiar dishes. However, the team have launched a new venture, Al Dente Sapori right next door, a more casual affair inspired by the flavours of their childhoods in Italy.
Originally a lockdown creation, co-owner and chef Andrea Vignali started off by making pasta on his kitchen bench during the pandemic, beginning his own takeaway and delivery pasta service. It quickly blew up, and the clout behind it was enough to convince Vignali alongside friend and fellow Italian-born chef Davide Bonadiman to open up their first restaurant. Where Al Dente Enoteca is based on an affordable fine-dining concept, Al Dente Sapori is decidedly less ornate, with no-fuss meals drenched in comfort and familiarity.
The dishes are regionally-inspired, consisting of hearty share plates and generational pasta recipes; it's all designed to make you feel like you're in Nonna's house. To whet your appetite, they've got entrees consisting of olive Ascolane; fried olives stuffed with meat, Panzerotti; mini Calzones filled with tomatoes, mozzarella and basil, and wagyu Bresaola. They also offer the classics like Burrata and cherry tomatoes drizzled with balsamic vinegar. For mains, their Cacio e Pepe Tortelloni is one of their most famous listings, as well as serving up Gnocchi Alla Sorrentina, their house Lasagne, and Tagliatelle served with Ragu. If you're still not completely dusted after that, their dessert menu has classics such as Torta Sabbiosa, Torta Caprese and a peach Semifreddo.
With the illustrious heritage of Carlton as the scene for the restaurant, it's hard not to immediately be in the mood for some quality Italian food. Its homey interior is part of its charm and matches the food perfectly. The exposed brick walls and starch white table cloths immediately evoke an image of a traditional trattoria, rustic but cosy. Come summer, outdoor street dining will be the order of the day, so you'll be able to enjoy an after-work Aperol Spritz in the sun. Private functions are also available, with up to 30 people standing or 20 seated, and best of all, it's BYO from Tuesday to Saturday.
Image credit: supplied
---