Altair
CONTACT
Ph: (03) 9844 5548
Visit Website
152 Yarra St
Warrandyte , 3113 VIC
Show on map
closed
---
Opening Hours
| | |
| --- | --- |
| SUN | 8:00am - 3:30pm |
| | 6:00pm - 11:00pm |
| MON | closed |
| TUE | closed |
| WED | 12:00pm - 3:00pm |
| | 6:00pm - 11:00pm |
| THU | 12:00pm - 3:00pm |
| | 6:00pm - 11:00pm |
| FRI | 12:00pm - 3:00pm |
| | 6:00pm - 11:00pm |
| SAT | 8:00am - 3:30pm |
| | 6:00pm - 11:00pm |
---
The Details
Cuisine
Need to Know
Function Space
Gluten-Free
Good for Groups
Great for Dates
Healthy Options
Love the View
Serving
Coffee
Breakfast
Lunch
Dinner
Dessert
In the mood for
---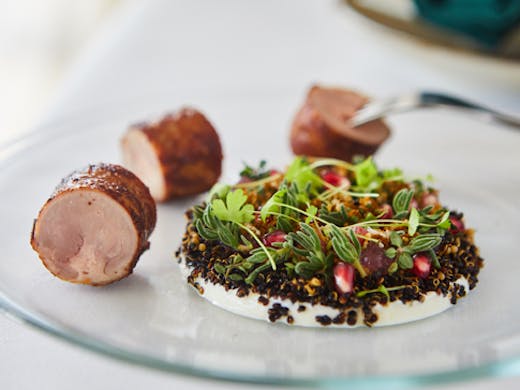 The Verdict
Warrandyte doesn't LOOK like a fine dining destination. The main strip is a sleepy mix of cafes and galleries, fresh air and gum trees all over the place. The Yarra burbles past, running clear and cold (not the brown sludge we're used to in Southbank). It's probably full of fish that don't glow in the dark or have legs.
But it's here—in a suburb most Melburnians couldn't plot on a Melways—that you'll find one of the city's premier fine dining restaurants.
It's called Altair, and it's the brainchild of husband and wife team Kelvin and Michelle Shaw. You won't have heard of these guys before (unless you're a fan of Elwood's Sails On The Bay, where Kelvin headed up the restaurant and Michelle waited tables, back in the day). They opened Altair four years ago with little more than a mortgage and a dream, and in the years since, it's become a Melbourne culinary powerhouse, regularly selling out degustation sessions and appearing on industry Best Restaurant lists.
"We were called Modern Australian, which used to bug me," says Kelvin. "Now I think of us as contemporary. We're using fine dining techniques and native Australian ingredients to create something really interesting.."
Interesting is right. One look at the menu and you'll realise you've stumbled into a new kind of fusion: Bush Tucker Man meets Masterchef.
Take the orange roughy, poached in XO sauce and served up with fried saltbush leaves, and crispy enoki mushrooms. Or the Doenjang roasted quail (one of Kelvin's favourites): an umami-powered quail roulade, served with yoghurt, pomegranate berries and fried green bush ants, which pop in your mouth like sour lime candy.
Our favourite? The Waltzing Matilda-inspired eucalypt sponge, sheep's milk labna, manuka honey, bee pollen, fried saltbush, rosemary sorbet, served with a billy tea. It doesn't get more Aussie than that.
Kelvin came late to cooking, honing his craft at the Sofitel and Sails, among other places. He used to cook a lot of South East Asian flavours but was drawn to the power of native bush ingredients.
"They're like the stuff you regularly taste, only stronger, stranger," he says. "You just have to get creative. Experiment. Try new things."
Altair does everything in-house. Grinds its own flour, churns its own butter, bakes its own bread. Kelvin and the team even cook damper. There's an epic wine list (over 250 bottles at last count), matched seamlessly by head sommelier, Michelle. For something really special, try the Aussie Old Fashioned, mixed with sour blood limes, Sri Lankan brown sugar and dark Scottish rum.
Yep, it might be Zone 2, but this Warrandyte gem is matching it with the best in the CBD. Time to bust out the Google Maps.
Image credit: Michelle Jarni
---