An Uong Eat. Drink. Vietnam.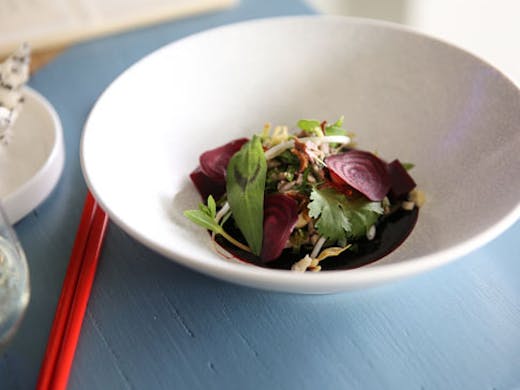 The Verdict
So, you think you know Vietmanese food inside-out? Well foodies, leave your preconceived notions of Viet-style cooking at the door of Richmond newcomer—An Uong Eat. Drink. Vietnam. This cute, contemporary twist on traditional cooking styles and familiar flavours is transforming Viet cuisine into mouth-watering tapas-esque morsels that melt in your mouth, leaving your belly brimming with deliciousness!
Founded by a trio comprised of a chef, a hospitality whiz, and a business guru, owners Richard, Zico and Le have brought together influences from north, south and central Vietnam, alongside their favourite Victorian wines and craft beers, to create a menu that's all about flavoursome food that won't leave you feeling heavy or bloated after a full five-course feast.
Stand-out dishes are the incredible Mum's Thit Kho Tau—that's locally sourced, caramelised pork belly, which has been delicately sous-vide cooked, served with pickled greens and a stock-boiled soft egg—and the cured kingfish salad, which comes topped with red onions, paddy herbs and crispy shallots. However, if colour is your thing (hey, we all eat with our eyes, right?!), the beet duck salad will have your Insta feed popping. Rich beetroot jelly, confit duck, fresh bean shoots and herbs are served with black sesame rice crackers, making for the ideal bar snack.
Sweet fans, you'll be relieved to know that the desserts at Richmond restaurant An Uong Eat. Drink. Vietnam. are also right up there, with the lychee topped coconut lychee sago being our pick of the bunch. The perfect combination of textures—tapioca, soft vanilla sorbet, juicy lychees and a coconut crisp—is what *really* sets this apart from the usual sago serve.
Already chomping at the bit to have your fill at this Vietnamese treasure? Not only can you eat in at their neon-lit venue, you can also order home delivery if you can't make it to Bridge Road. We'll take a car-full of the mini pulled pork banh mi, thanks...
Image credit: Supplied
---