Arepa Days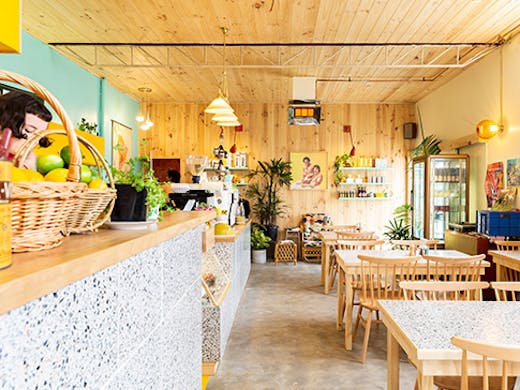 The Verdict
Seems like everything good is opening in Preston these days. You wouldn't believe the number of Uber trips we take out here each week. We're starting to feel like High St locals.
Well this place isn't on High St. It's actually tucked off Preston St, which is definitely Preston's rough-diamond strip. Gentrification creeps slowly out here, but venues like this might speed up the process.
Ladies and gents, welcome to Arepa Bar. AKA one of our Top 10 openings of 2018.
Honestly, we fell in love with this place the moment we pulled aside the glass-fronted door. It's yellow and warm and kitsch and homely. A quirky little South American arepa bar from the owners of Sonido in Fitzroy, Santiago Villamizar and Carolina Talero.
In fact, Santiago says he wasn't even looking for a cafe space. They were just trying to find somewhere to make arepas—the crispy, crunchy corn pikelets that are basically the South American equivalent of toast.
"We're pumping out about 1000 arepas a week," Santiago says. "For both here, Sonido and some other cafes around town. So we needed a dedicated 'Arepa Lab'".
The 'Arepa Lab' here sits behind two upcycled French windows. Santiago and Carolina imported a specialty arepa machine from Colombia. They even mill the corn themselves. "It's like running a bakery," Santiago says. "Except with corn. All we use is corn, water, salt and vegetable oil." Yep, that makes arepas gluten-free, folks.
So what can you actually eat here? Well, for starters, strong coffee from Wood & Co, plus Colombian hot chocolate (AKA 'Chocolate Corona'), Inca Cola, Aguapanela sugar cane elixir, and a range of shakes, juices and smoothies.
The arepas are bloody good, as you'd expect. Perfectly crispy and pillowy in the middle. You can get them in two flavours—traditional and cheese (the cheese ones are stuffed with melted cheddar). Choose your toppings after that: maybe vegemite, guacamole and tomato, or chargrilled chorizo. Everything's prepp'd in-house, and it's all delicious.
When we arrived at Arepa Days, the locals were already starting to buzz around. Expect word to spread quickly. Places like this don't stay secret for long.
Image credit: Sammy Green
---