AU79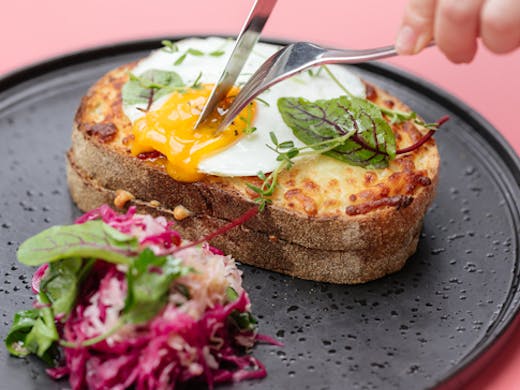 The Verdict
There's a new place in Abbotsford that has us scrabbling for superlatives, and its name is AU79. It's allegedly the biggest café in Melbourne (200+ seats…seriously). It holds more plants than the average greenhouse, and employs a gardener just to look after them. It's got an on-site bakery, patisserie and coffee roastery—a huge glass-enclosed room, stacked high with hessian bean sacks, churning out AU79's signature blend. The coffee machine was imported from Italy. The furniture from Scandinavia. The chefs, bakers and baristas have been poached from some of the best cafes and restaurants in Melbourne. Even the freaking glassware was picked out by hand.
"We spared no expense," says GM Robin Shepherd, accidentally channeling Richard-Attenborough-Jurassic-Park vibes for a second. But he's right. The attention to detail in this place is insane. And AU79 has none of Jurassic Park's major drawbacks: you come here to eat, not to be eaten.
Speaking of food, the menu is a guaranteed crowd-pleaser. (Shepherd calls it "Restaurant food at café prices".) Think contemporary flavours and top-notch execution, spiked with a light Asian touch. Start the day with a home-baked cronut (served with yoghurt, rhubarb granita, peach and black sesame praline), smashed av with salted ricotta and chilli dukkah (why have we been eating un-chillied dukkah for so long?) or the smoked bonito croquettes with pickled cabbage and poached eggs. For lunch, you have to try the Truffled Croque Madame: a golden-grilled gruyere masterpiece with pickled wild mushrooms, fried egg and sauerkraut. Gooey, truffle-y and bloody delicious (and if you don't add the grilled bacon steak, you're doing it wrong).
Trust us, Melbourne's going to be talking about AU79 for a while. Go now and see what all the fuss is about.
Image credit: Griffin Simm
---