Aunty Franklee | Hawthorn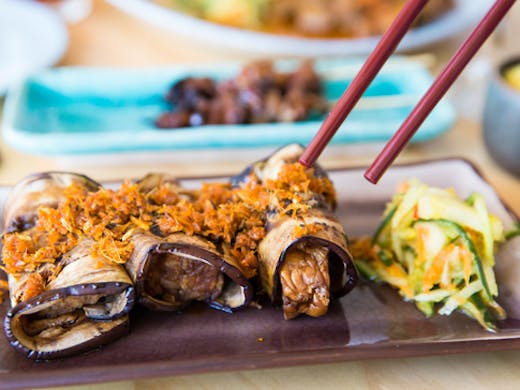 The Verdict
How often do you get a new Malaysian eatery dishing up authentic Bak Kut Teh PLUS a rare selection of Australian natural wines? Never. That sh*t never happens. At least that's what we thought, until Aunty Franklee popped up on Burwood Rd in Hawthorn.
If you haven't heard of this place before, it's a cult Malaysian restaurant in the CBD, famous for its wicked pork bone tea and brain-melting char kuey teow (a serious contender for our Desert Island Dish).
This is the business' first expansion into the eastern 'burbs, and the new Hawthorn digs look NOTHING like the original restaurant. In fact they don't look like many restaurants full stop.
The space is a quirky cul-de-sac, with mint green walls, wicker rattan furniture, vintage typewriters and hanging greenery. The only clue you're looking at a kickass Malaysian bar is the smell of cengkih, cardamom, five spice and halba campur spice wafting from the kitchen out back.
On to the menu. Aunty Franklee is delicious in that simple, un-fussy, home-cooked sort of way. You pretty much have to try the Old Fashioned Bak Kut Teh—the signature dish, brewed from 23 different herbs and spices, and stuffed with pork slices, pork belly, tofu, shitake mushrooms, enoki and bok choy. It really is crazy good.
Our other pick has got to be the char kuey teow. Now we've eaten this stuff from Springvale to Footscray and everywhere in between—this is one of the best. Wok-fried rice noodles, just a little gnarly and overcooked, sticky with sauce and loaded with fresh prawns, fish cake, Chinese sauages (yum!), egg, chives, bean sprouts and a homemade sambal.
Wash it all down with Borneo Milk Tea (made from coconut sugar, red tea and condensed milk) or a jug of fresh-made Iced Tea (it rotates daily). There's also a great range of Aussie natural wines, handpicked by legendary sommelier Brad Lucas (Lakehouse, Cult of the Vine).
If you're a sucker for good Malaysian food, get in to Aunty Franklee ASAP.
Image credit: Jenna Fahey-White
---