Baisemain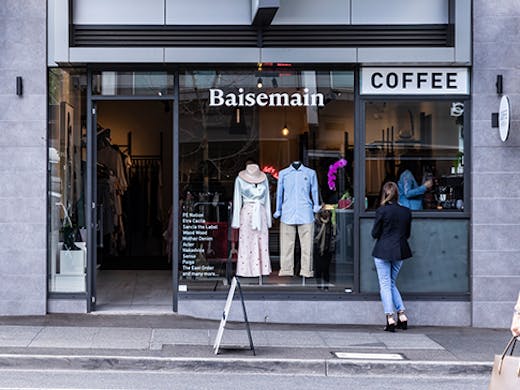 The Verdict
There's nothing wrong with CBD shopping, but you do tend to see the same brands again and again. And again.
In fact, the health of Melbourne's retail scene depends on places like this: Baisemain. It's a boutique that popped up in Hawthorn back in 2017. Along with its online store, this little shop reps some of the most exciting up-and-coming labels in Australia.
And before you ask: 'Baisemain' is an old word for 'a kiss on the hand' or 'a sign of respect'. That's what this place is all about: respecting contemporary, seasonal, local design. Oh, and bloody good coffee.
Baisemain is the brainchild of Jess Tripp, and she's assembled a pretty interesting collection. The guys recently cleared out a lot of stock with the first bday sale, so most of the pieces in there are new season now. Expect designers like Ace Of Something, Backstage, Double Trouble, Nakedvice, Zhrill, Mara and Mine, and IRO.
"It's kind of a chill-out place where you can come and buy pieces that take you from day to night," says Jess. "It's got a street style vibe, but you also have that element of spring carnival and active wear. We just wanted people to come in have a coffee and have a chat, and even if they don't find a piece, they still get something out of it."
The range spans everything from spring frocks and women's activewear to men's hoodies, boardshorts and wallets. If it's on-trend and indie, there's a good chance Jess is stocking it on the shelves.
"We really wanted to feature Australian brands," Jess says. "Customers are just so interested in Australian stuff these days, and we prefer working with them anyway. There are brands that are killing it in Australia now."
There's a Sale page on the website, but keep an eye on Baisemain's social channels too—when they have a proper sale, they go all the way. We're talking $1500 leather IRO jackets down to $200 all the way.
The store itself is warm and cosy, tucked on Glenferrie Rd down in Hawthorn. Apart from some pink neon in the changerooms, the design is minimal and pared back. But it does come with an in-house, streetside coffee window. Nice touch, that.
You can swing by Baisemain seven days a week. Just check the opening hours—they vary.
Image credit: Mel Desa
---