Bakemono Bakers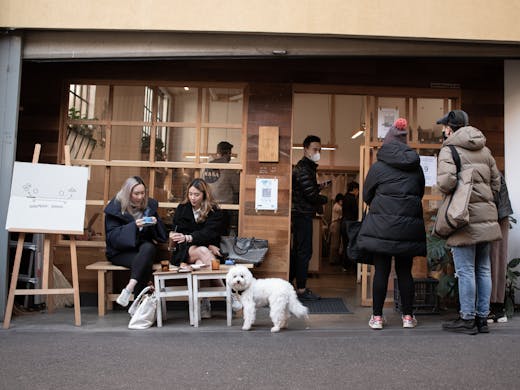 The Verdict
Inspired by the bakeries of Japan and Korea, Bakemono's magical wooden storefront on Drewery Lane in the city is a refuge for quality bread and pastries. Alongside its sister store and cafe, Little Rogue, the pair offer the lane some serious charm.
With a selection of house-made baked goods and bread, Bakemono has established somewhat of a cult following. Its concealed location for picking up a loaf of bread doesn't seem to matter. If anything, it adds to the experience and clearly doesn't impact foot traffic as always they've got a steady flow of loyal customers lining the laneway.
Offering a range of unique pastries, cakes, and bread, Bakemono's range includes several French classics including an almond croissant with a Yuzu twist, a Canelé (a small caramelised pastry-cake), as well as more traditional Japanese specialities like their Shokupan loaf (a soft milk-bread loaf).
The timber shopfront opens up into a gallery-esque space with high ceilings, white-washed walls, wood panelling and bench-seating. The baked goods are laid out aesthetically across the bench and provide further enticement when ordering. As you'd expect the coffee here is also expertly crafted, they also have a range of retail beans available from one of their current suppliers, sustainably-focused Core Coffee Roasters.
If you're planning on a venture to Bakemono, make sure you get in early as things sell out quick.
Image credit: supplied
---