BAM Cornerstore
CONTACT
Ph: (03) 9989 4455
Visit Website
23 Albion Street
Essendon, 3040 VIC
Show on map
---
The Details
Serving
Coffee
All Day Breakfast
Breakfast
Lunch
Take Away
Hunting For
Local Produce
Food & Drink
---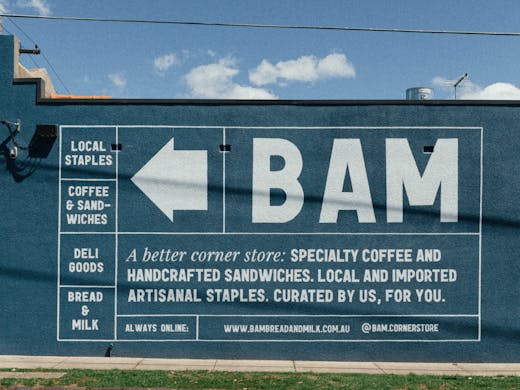 The Verdict
BAM, (Bread And Milk) is Essondon's local corner store. A one-stop shop for specialty coffee, gourmet sandwiches, baked goods and artisanal pantry staples; meeting the needs of any modern Melburnian.
The painted blue corner store has already earned a reputation amongst sanga enthusiasts for its fresh handcrafted numbers. The French fondue baguette, roast pork belly roll and salt beef bun have made them a go-to destination for a takeaway lunch. But it's BAM's classic chicken club that has earned them lines out the door. Picture poached chicken, butter lettuce, fresh cucumber, housemade aioli and seasoned with bacon salt between two slices of Shokupan bread.
There's a lot packed into a very little store. Each pantry item has been hand-selected by owners Joseph and David Rofaeil for quality control. There's the familiar line-up of Melbourne artisan products from the crunchy chilli oil from Ugly Food & Co, hot sauces by Fancy Hank's and Tom Sarafian dips, it's hard to leave BAM corner store empty-handed.
'"If you've got friends coming over or you're having a picnic you can definitely pop in and grab three or four items that will make it that extra bit special," Joseph says.
While you're picking up your sandwich and restocking on supplies it's hard to go past their selection of pastries by Via Porta, Ona specialty coffee and bread loaves from Penny For Pound. BAM really is "a better corner store".
They've maintained the nostalgic corner store feel with classic yellow price tags from the sticker gun and old fashioned craft paper bags sealed with a sticker for you to cart your groceries home in. While they pay homage to old corner stores with their packaging, BAM's modern interior is certainly fitting for urban Melbourne.
"We're pretty overwhelmed with the response. Our weekends have become a busy time with lots of people crowding out the front, which is good recognition," explains Joseph.
You can head to Albion Street in Essendon to experience the corner store for yourself or order from the online BAM shopfront here.
Image credit: Tayt Bale
---