Bambu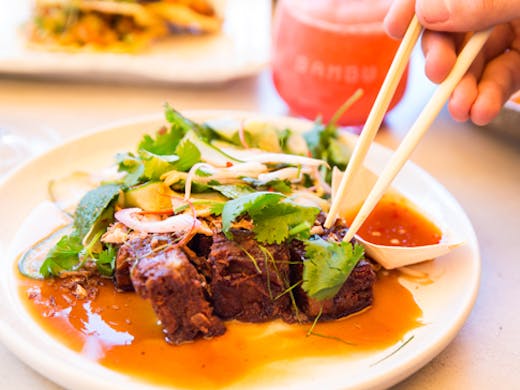 The Verdict
Just when you thought South Melbourne couldn't get any more delicious...
Welcome to Bambu, South Melbourne Market's new hawker-style Asian eatery, and the latest project from hospo pros Sam and Nick Seoud (the brains behind South Yarra's Darling Cafe & Dundas Faussett in Albert Park). For this venue, the Seouds have ditched the cafe scene for something spicier: an all-day curry, rice and noodle bar, sprinkled with the flavours of Thailand, Malaysia, Fiji and Vietnam. Your nostrils practically sizzle as you walk past the window.
"We're known for our wok menus at Darling Café and Dundas & Faussett, so we wanted to open something that took it one step further and focused entirely on the extraordinary flavours and textures of Asian cuisine," Nick said.
Let's break down the menu. Start with the smaller plates—maybe a Vietnamese pulled pork slider (doused in a wicked chilli sambal mayo), or Asian Tacos with roast duck, mandarin salsa and sweet hoisin.
Then it's onto the mains. Bambu is going for a pan-Asian flare, which means you can get BBQ pork buns, chicken satay, gai lan Thai green curry and Nasi Goreng, all on the same menu (permission to drool, granted). It's generally best to grab a bit of everything—consultant chef Bobbe Bee designed it that way. Whatever you do, don't forget a side of san choy bow—acidic, herbaceous, and with a serious chilli kick.
If you're really stuck (and with all of Asian on one page, it could happen) there's a Chef's Plate tasting menu for $50 per head, including dessert. This is where we mention the Thai milk ice-cream Brûlée with cinnamon sugar.
Round off the night with a range of Asian beers (think Kung Fu Rice Lager, Lucky Buddha, Singha and the ever-popular Chang) and a whole coconut, filled with Tia Maria and spiced rum. Boo-yah.
Image credit: Jenna Fahey-White
---