Bao X Waffle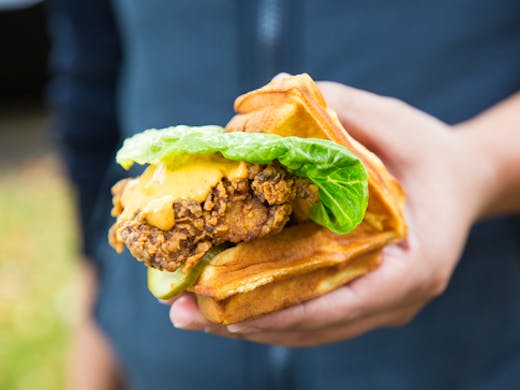 The Verdict
Bao X Waffle makes us wish we had a bigger mouth. Or maybe multiple mouths. Anything to get these things inside us faster and in larger quantities.
The guys at Bao X Waffle were previously pop-up market regulars that drove around Melbourne slinging bao buns and bao-waffle hybrids to hungry Melbournians every weekend. Well, now we're happy to announce that they just scored a new, permanent fit-out in Northcote, so you'll want to write down the address and head there as soon as possible.
And in case you're not familiar with Bao X Waffle, let's get you up to speed: Bao X Waffle is combining cutting-edge Chinese bao technology with funky Southern-style flavours (and a hefty dollop of hip hop swagger).
What does that mean? It means pillowy bao stuffed with crispy AF Southern chicken fillets, deep-fried gnarly little nuggets, topped with pickles, iceberg lettuce and a house-blend hot sauce known as 'Bruce'. It means braised and panko-crumbed daikon (sourced from local farmers), dished up with pickled veg, watercress, Kewpie mayo and Tonkatsu sauce.
There are seven flavours on the menu (including two vegan/vegetarian options) and you can get them wrapped in a traditional steamed bao or a beautiful Belgian-style waffle pocket. Simply fold and eat. The messier the better. Our pick is probably the fried chicken—the Bolo Bao. But the Rocky Bao Boa pork belly ain't too far behind (nice little scattering of crushed peanuts on that one).
And if you're thinking dessert baos, think no further than the PB&J: crunchy peanut butter, raspberry jam, roasted peanuts, all stuffed in a coconut-fried, panko-crumbed bao.
To wash it all down, you can opt for a variety of beverages, including coffee, hot choc, tea, lemonade, sodas or kombucha.
Bao X Waffle is open Sunday - Thursday from 11 am - 9 pm and Friday/Saturday, 11 am - 11 pm. Hurry up and get there.
Image credit: Jenna Fahey-White
---