Bar Carolina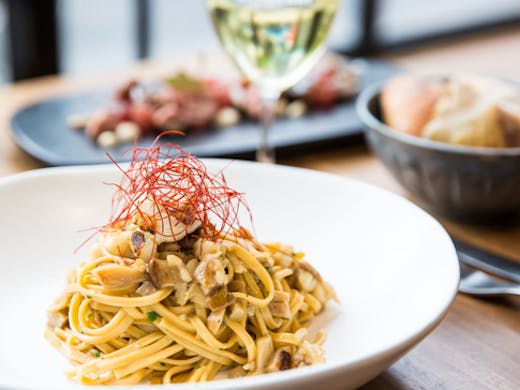 The Verdict
The fading Carousel ice-cream sign still hangs over the main entrance, but Bar Carolina is a world away from double scoop vanilla with extra sprinkles.
This is restaurateur Joe Mammone's first foray southside, after wowing CBD diners with Il Bacaro and Sarti. It's an all-class Euro-mod bistro, a friendly Venetian 'ciao' to the French eateries that dot this part of Toorak Rd (France Soir, watch your back). And like everything Mammone touches, the devil is in the detail.
Turning a derelict Carousel shop into a swanky Italian bistro is no mean feat, but it helps when you have Chris Connell and engineer Michael Amore handling the face-lift. The new fit-out feels like you're dining on the Grand Canal, but circa 2017, not 1957. Mammone deliberately went for a more contemporary feel, with terrazzo floors, handmade leadlights, custom steel from Amore, little flecks of azure here and there.
The restaurant's pride and joy is the woodfire Josper oven, imported direct from Spain. Head chef Paolo Masciopinto is pretty liberal with the old Josper, blazing mains like wild barramundi, crusted in salt and herbs, which comes wrapped in a little steaming parcel. A beastly 700g rib eye steak lands on your table with a simple scoop of seeded mustard.
If you're less Flinstonian fare, there's handmade pasta and delicate vegetarian entrées like beetroot-filled ravioli with goats' cheese and poppy seeds or maple roasted carrots, cashews, pine nuts and fresh cheese. Pasta-wise, keep an eye peeled for the tagliolini with Morton bay bugs, porcini and dried chilli, or the braised baby goat with broad beans and shaved salted ricotta.
And for afters? It's gotta be the tiramisu. Now we've eaten more tiramisu than you've had hot dinners, but we've never seen it like this before: enclosed in a sphere of white chocolate, nitrogen smoke curling around the plate, and inside a sinful mix of coffee, savoiardi and mascarpone. Dee-lish.
Image credit: Jenna Fahey-White
---