Bar Saracen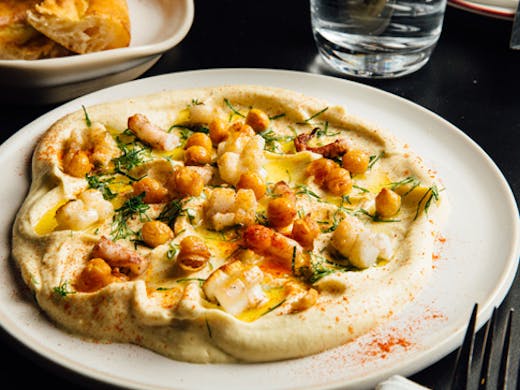 The Verdict
You're in the city when the hummus cravings strike. Your tummy rumbles, saliva starts running down your chin, and you're jones-ing for a plate of creamy chickpea lotion. Where do you go? Well now, we're happy to say, you sprint like gold medallist into Punch Lane's newest Middle Eastern resident.
Punch Lane has been kicking all sorts of goals recently. Last year we got Juliet (if you're after wine and raclette, this is the place) and now we've got Bar Saracen.
This place is the latest venture from Joseph Abboud (Rumi in Brunswick, the Moor's Head) and Ari Vlassopoulos (ex-Hellenic Republic). It's a Middle Eastern mezze temple, but not exactly as you know it.
Let's start with the hummus, because you should too. It's just insanely, insanely good. Creamy smooth, perfectly seasoned, topped with delicate calamari tentacles, whole chickpeas and a dusting of paprika. The combo works something fierce—we could swim in a big pool of this stuff.
If you want to eat things besides hummus (what's wrong with you), there's wall-to-wall mezze shared plates ready to go. Fish taratoor with fried nuts and saaj bread. Marinated labne with pita and zatar. Leeks with spicy muhumarra (a red pepper spread native to Syria).
Head chef Tom Sarafian (also from Rumi) has a few surprises up his chef's whites though. We're talking raw Wagyu kofta—think of it like a spiced beef tartare. Borek the size of purses, stuffed with prawn, egg and cheese. Even a wicked pistachio baklava with sheep's yogurt ice-cream and rosewater.
Still...dat hummus. We're just saying.
Image credit: Annika Kafcaloudis
---