Bartronica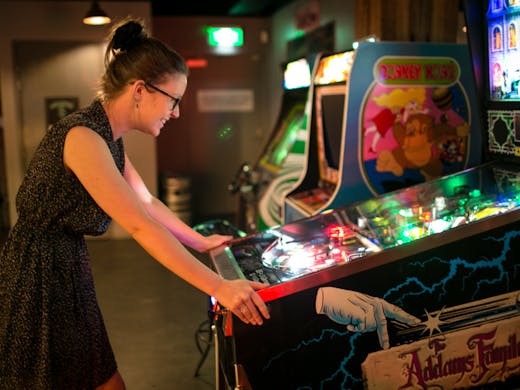 The Verdict
Flinders Ln is basically Melbourne's answer to Diagon Alley. There are curious surprises and hidden boutiques and sketchy, Knockturn Alley-like bits down around King St. But of all its secrets, of all its wondrous delights, this has to be the best: a secret underground video game parlour and bar. You turn into a non-descript little door, walk down some stairs...and it's like your childhood is there waiting for you. Except now it serves beer.
Congrats, you just found Bartronica.
This basement venue has been twinked out to the max. Here is just a small sample pack of the delights in store: an ORIGINAL Donkey Kong console, Time Crisis II (holy crap, this one accounts for like 43% of our teenage years), The Simpsons, Point Blank, NBA Jam, Big Game Hunter, retro pinball machines and—best of all—break-out lounge areas fully equipped with N64s and SNES consoles.
The arcade games rotate semi-regularly, so there's usually something fresh to play. But the real fun is the events calendar. Keep one beady eye on Bartronica's Facebook page for news on upcoming Mario Kart 64, Smash Bro's or Goldeneye tournaments (!!). Reckon you were some god-like video game prodigy back in the day? Now's your chance to prove it.
Image credit: Gareth Sobey
---