Bass & Flinders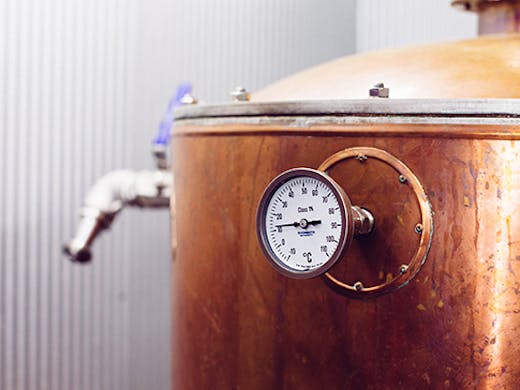 The Verdict
When you think Mornington Peninsula, chances are three things spring to mind: beaches, spas and wineries. But thanks to Bass & Flinders, it's time to add a fourth: delicious gin distilleries.
The doors to this locally-focused distillery opened in 2009, over in Red Hill, and they've been making their mark on the industry ever since. In fact, they're one of only a few distilleries to make their base spirit in-house. That's nothing to sneeze at. You may also remember a certain glorious Cerise gin from last summer? Yep, that was them. The full range includes limoncello, aged brandy and Australia's first grape-based vodka. But we're not here to mess about: the star of the show is gin.
There's a real focus on quality over quantity at Bass & Flinders, with a passion for pushing the flavour boundaries. The botanicals are all drawn from local, seasonal ingredients: Angelica root, lemongrass, coriander, Mulla Mulla and Purple Vetch, to name a few. We'll be honest, we don't know what a couple of those are, but we know it makes their gin taste damn fine.
Speaking of tasting damn fine, they've got a new product on offer, and it's just in time for those frosty Melbourne nights—winter gin. Basically, this gin had a rendezvous with an apple brandy, introduced some star anise, cinnamon, nutmeg, orange and native pepper berry into the mix, and ended up with Christmas in a cup. How did we go so long without realising how much we needed buttered gin in our lives?
With tastings, gin masterclasses, and a modern-meets-alfresco botanical bar serving up cocktails available all year round (and a charming barrel room out back for winter visits), you're going to want to set aside a Sunday to soak it all up. The distillery door is open Fridays, Saturdays and Sundays.
Image credit: Bass & Flinders
---