Bassike | Emporium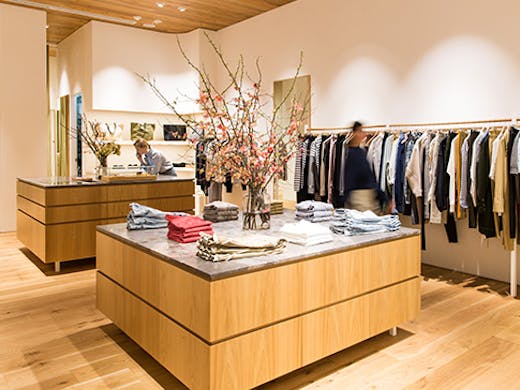 The Verdict
It took a while, but Sydney-born success story, Bassike, has finally joined the Emporium flock. It's good to see the CBD's premier shopping destination embracing more local designers (not that we don't love cruising Superdry and Uniqlo with the best of them).
Bassike started back in 2006, the brainchild of designers Deborah Sams and Mary Lou Ryan. In the beginning, the brand was built around organic cotton jerseys, before launching Bassike denim in 2007 and the mainstay collections in 2008. These days it's known for high-quality basics and on-trend wardrobe staples.
Emporium is the brand's third store in Melbourne (you can find the others on Malvern Rd in Hawthorn, and Rankins Lane in the CBD). Deborah and Mary Lou have gone with long-time collaborator, Akin Atelier, for the design. European oak flooring, natural sisal, lots of linen, Bresccia marble and Marmorino plaster all feels very Emporium and expensive. But that's kind of the idea. A big floral display on the central table helps pep up the space.
The range is updated seasonally, but you can always find excellent basics for men and women. New season stock is big on twill pleat pants, falling from the hip, baggy trenches, fleece sweats and popping red cashmere knits.
As usual, there's a solid range of denim (everyday and fancy) for him and her, plus boutique eyewear from Sun Buddies, shoes from luxury New York label, They, and fragrances from Map Of The Heart.
Check these guys out on Emporium Lvl 2, blow out the credit card, then reward yourself with lunch on the top floor. We won't tell bae.
Image credit: Jenna Fahey-White
---