The B.East Of Brunswick St.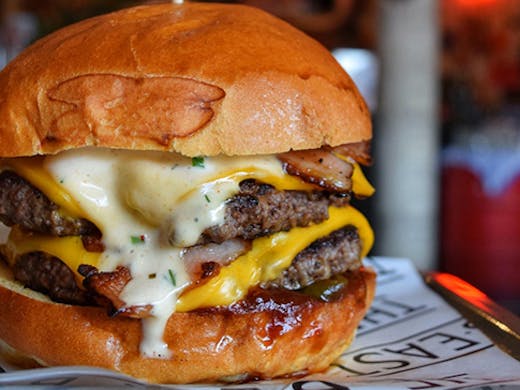 The Verdict
Institute-status burger joint, The B.East, is set to open a sister restaurant called The B.East Of Brunswick St. in the heart of Fitzroy.
Bringing with it will be The B.East's signature anti-establishment, but all-inclusive atmosphere along with those unapologetically greasy burgers synonymous with the top end of Lygon Street.
Expect to see the classics like the double pattie Sexy Beast burger, and the Clint Beastwood, a crispy southern fried chicken burger dripping in thousand island dressing. The Fitzroy outpost will also be home to several exclusive meat and vegan options.
Like the original B.East, the wine, beer and spirits offering is curated from selected local producers and suppliers. They'll also be bringing their cocktail list with them, which is like nothing else seen in Melbourne.
The B.East Of Brunswick Street opens 11am on Tuesday 18 February.
Photo credit: supplied
---