Beatbox Kitchen | Fitzroy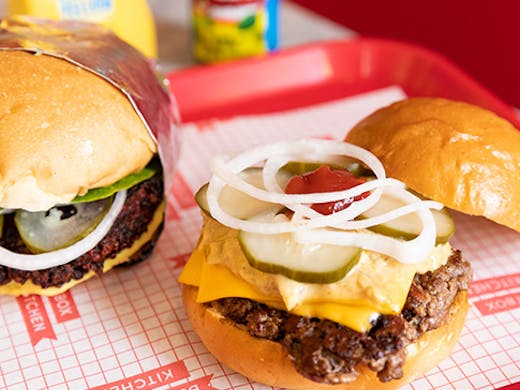 The Verdict
If you live in Melbourne there's a pretty good chance you've heard of Beatbox Kitchen Food Truck and its owner, Rafael (Raph) Rashid. For those of you who haven't (we're trying not to judge), it's basically burger-y heaven on wheels.
The food truck has been servicing Melburnians since 2009 by way of daily location updates on their Facebook and Instagram pages. Those not lucky enough to live near the Sydney Rd Brunswick store have resorted to tracking its every move like a clingy groupie.
But we've got good news: Beatbox just opened the doors on its second-ever home. It's just popped up on Gertrude Street in Fitzroy.
Lulu Andrews, the Gertrude shop manager, says the locals are rapt.
"There's a community here that's already familiar with Beatbox and they've known Raph forever, so it's been really nice to be here."
The new location formerly housed Donut Shop, a Fitzroy stalwart that held the belief doughnuts are best served with coffee.
Keeping with tradition, Beatbox's menu has a fresh selection of doughnuts, including the Don-Homer (raspberry glaze with sprinkles), Coffee Passionfruit, and vegan options—all appropriately served with a filtered cup a' joe.
The doughnuts come from All Day Donuts, another branch from Raph's well-rounded food truck empire. Lulu says adding the doughnuts was important to Raph. "It's kind of nice, like we're living in the legacy of the doughnut shop"
Other additions to the menu include classics like the Cheese and Double Cheese Burgers, and the Floats, paying homage to the childhood straw-sucking classic.
For a healthier option, Beatbox is also slinging sandwiches, salads and tofu nuggets that Lulu says have already been a hit with locals.
"We have this one guy who phones every two days or so to order his burger and then he comes down with his book and own coffee cup and just sits here reading."
Don't fret though, their cult-classics live on—the Shroom Burger is here, as are the Raph Burger, Chilly Billy, Veg Supreme, plus their bite-size Lil' Cheese.
Beatbox Kitchen on Gertrude Street is currently open till 9pm every day, with the possibility of extended hours in the following months.
Image credit: Mel Desa
---