Beechworth Honey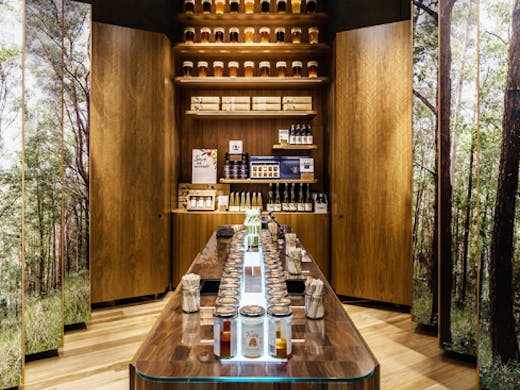 The Verdict
Honey lovers (that's all of you, obviously), listen up. Beechworth Honey, has been listening to our prayers because they've gone and opened a freakin' store dedicated entirely to honey…right in the CBD. The family-owned business is the brainchild of a fourth-generation bee-keeper, too.
There's more than just honey, though; it makes for some bang-up beauty products. Head instore now to try the new manuka honey and tea tree gorgeousness, including their cult-status bee balm, body lotion, body and hand wash, and hand cream. These little tubs of magic call on manuka's ability to act as a natural humectant and draw moisture into the skin. So, yeah, you probably need them in your product arsenal.
It's their first location outside of Beechworth, which is reason enough to get excited about it, but the fact that the store is ridiculously stunning is worth writing home about, too. Think warm and natural finishes inspired by the Australian landscape with Spotted Gum wood finishes and life-size Eucalyptus tree decals and you're halfway there. (We recommend making time for a visit, because it's that stunning).
The boutique features the Honey Tasting Station which is home to more than thirty honey varietals (including limited edition honeys!) ready and waiting for your tasting pleasure. Expect honey ranging from delicate to fruity and warm to bold—honey tasting is a sport, people. Each honey variety is specifically suited for whatever you're baking, drinking, or lathering on your skin (seriously), but don't stress; there's a whole team of honey pro's (aka, super friendly staff) to help you pick the perfect honey for your needs from the store. Hey, it's harder than it looks.
The Honey Altar will blow your sweet-loving mind. It's essentially a work of art, and no—this isn't hyperbole.
ICYMI, there's more to honey than just eating it. So, don't miss checking out Beechworth's other product offerings. Your credit card will hate you once you lock eyes on the Bee Raw Honey & Honeycomb jars, Sparkling Honey Soda, Bee Natural lip balms, and even hand-rolled and hand-poured beeswax candles. Just between us, the new Bee Balm is kind of a lifesaver. It's made with 100% natural Manuka honey and tea tree oil.
Suddenly craving honey? Find out more info about the new store here.
Image credit: Griffin Simm
---