Belinda Hughes Skin Clinic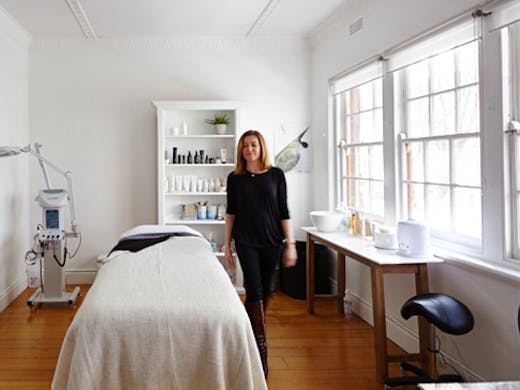 The Verdict
It doesn't look like much from the street, but wander up the stairs to Belinda Hughes' new South Yarra skin clinic and you suddenly find yourself in a timber-floored Zen palace. The white-washed walls, leafy outlook windows, and a soothing meditation soundtrack massages its way into your brain.
It's the latest bricks and mortar venture from celebrated beauty blogger Belinda Hughes (aka the Natural Beauty Expert), as well as the only 100% organic skin clinic in South Yarra. Think of it more as a holistic beauty and wellness centre; a place for your monthly facial where you can learn about your skin, get a naturopath referral (Belinda has a few choice contacts she recommends) or grab a bottle of moisturizer from the carefully selected products on display.
"I only use natural products," Belinda says. "They're just more effective. The active ingredients are more concentrated. With artificial skincare these days you're really just paying for water and fillers."
Belinda specializes in European-style facial and massage, including lymph drainage and muscle firming. No needles, no harsh chemical peels, and certainly no lasers shooting into your face. You just lie back, close your eyes, and try not to doze off (it's a challenge—there's something very relaxing about getting your face carefully disheveled by hand). The treatment menu is pretty broad: everything from acne cures to Hollywood Facials and Chocolate Scrubs. Belinda tailors each session to your skin type, and finishes up with some bespoke advice about suitable products and daily skin care. The end result? You leave completely relaxed…with skin that feels (and looks) like something out of a L'Oréal commercial.
Bookings by appointment only.
Image credit: Michelle Jarni
---