Bellboy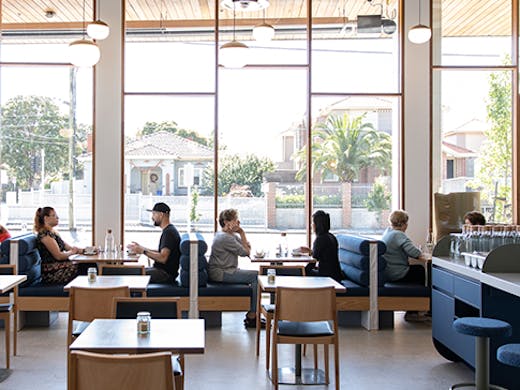 The Verdict
Just by the entrance to the new East Brunswick Village centre, you'll find the latest northside cafe to open their doors—Bellboy. The fitting name is just the tip of the iceberg for why you'll love this new brunch spot. They're pet and cyclist-friendly with abundant al fresco space, and they make their own breads from scratch. House-made sourdough crumpets anyone?
The menu centres on fresh, high-quality produce and their dedicated bagel range from Savion. The menu accommodates all kinds of dieteries too with loads of plant-based and gluten-free options available. They've also got a super affordable kids' menu priced at $6-$8 a plate.
They've got you covered for Melbourne cafe staples like avocado on toast and eggs any way you want them. For the sweet tooths, we'd suggest the indulgent Buttermilk Waffles served with caramelised white chocolate cheesecake, summer berries, hazelnut cookie crumble and maple syrup. We're not the only ones drooling right? Of course it wouldn't be a Melbourne cafe without quality coffee, so you'll be glad to hear that the beans will be roasted on site by former Golden Bean winner Mark Leo.
Get down to Bellboy seven days a week for your daily coffee. They're open 7am-3.30pm Monday to Friday, 7am to 4pm on Saturdays and 8am-4pm on Sundays.
Image credit: supplied
---