Between 2 Buns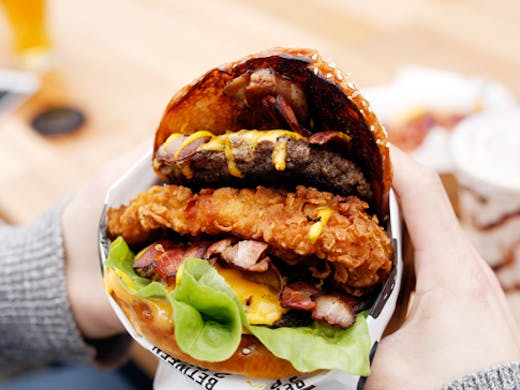 The Verdict
The news is out: one of the bay's premier burger joints, Between 2 Buns, just opened new digs in Williamstown. Sun, Sundays and fat burger stacks—a roadtrip over the West Gate just became a hell of a lot more fun.
2 Buns is known for its perfectly seasoned patties, still a little pink in the centre, their OTT beer-battered 'dirty fries' and stupidly good thickshakes (think flavours like Strawberry Cheesecake, Ferrero Rocher and Toffee Buttered Popcorn). Their original HQ is 50 metres from Altona beach, and the new Williamstown store sticks true to those seaside burger roots.
If you're looking for a good intro, it's gotta be The Double: double beef, double American cheese, a brain-fizzing blend of mustard and the house B2B sauce, crispy bacon and a lonely leaf of oak lettuce. Pro tip: whack some jalapenos in there. Really gives it a zing.
Burger pros can double down and add a fillet of gnarly fried chicken to any burger (rookies, give this one a wide berth. It takes a certain sort of stomach to handle the sheer concentration of meat).
Side-wise, cheesy fried with bacon bits and spring onion are a step above the average, and a frosty thickshake is pretty much compulsory.
Grab your feed, wander down to the Williamstown pier and soak up some sun. Just be prepared to fight every seagull in Melbourne for those chips.
Image credit: Brennan Lukav
---
You May Also Like