Beyond Rest | Hawthorn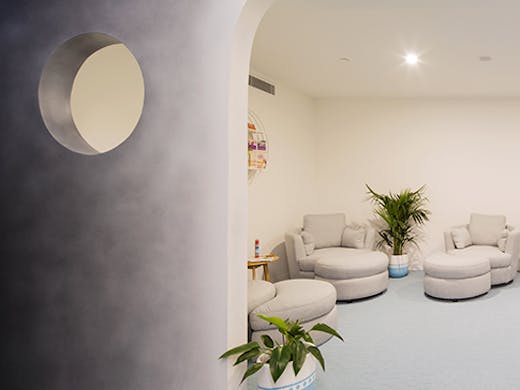 The Verdict
Feeling a bit stressed? Overwhelmed by the impending doom or just plain over life? We feel you, guys. And so do our friends at Beyond Rest in Hawthorn.
These guys are here to save the day and cure your stress-ridden, sleepless brains with some specially crafted egg-like floating tanks.
You've probably heard of the floating tank phenomenon already. They were brought to Australia a few years ago by brothers Nick and Ben Dunin, who crossed paths with a man who seemed to possess a "higher level of consciousness" than anyone they'd ever met. After learning that his secret was floating nude in the dark every day, the brothers put their heads together and created Beyond Rest.
The business is now a worldwide brand, with over 500 floats across the globe. Melbourne is home to four of them. Hawthorn is probs our fave (don't tell the others)
You have neurophysicist Dr John C Lilly to thank for the pods themselves. He designed the tank while doing research on brain waves and the altered states of human consciousness (stay with us). The tanks look like a large egg-shaped bathtub and are about the same size as a small car (beep beep Nisan Micra Drivers).
At this point, you're probably wondering how you float and not drown in a tank that's filled with water and closes on top of you? Well, there's 500kg of super-saturated Epsom salt solution in there. That's how. Let's you bob in suspended animation. Thanks, science!
Beyond Rest in Hawthorn (which opened in Feb btw) are on Camberwell road, and describe themselves as the ultimate 'Temple of Relaxation' (we like the sound of that). The gently curved interiors, all mapped into some smooth cosmic pattern, get you relaxing before you've even set foot in the tub. They have five pod rooms with good energy flow, a white light therapy room (Aka an Ajna room), a luxurious chill-out lounge and live-plant décor.
The benefits of having a sesh in one of these pods are endless, but we'll give you a few: they promote total calm and peaceful relaxation, eliminate fatigue and jet lag, improve sleep, remove pain from arthritis, stimulate brain synchronisation (whatever that is), increase motivation and productivity (which we need rn) and reduce heart rate and blood pressure.
You also get to tell people you floated nude in a sensory deprivation tank, which is a great anecdote at dinner parties.
Image credit: Beyond Rest
---