Beyond Rest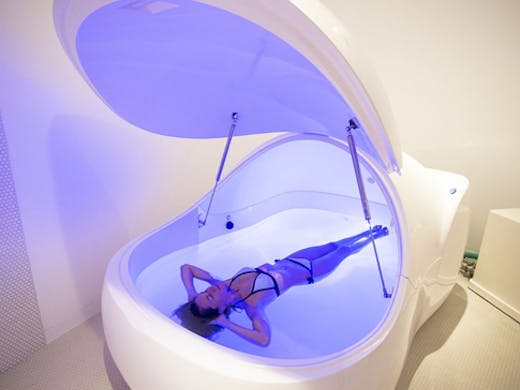 The Verdict
I strip off and climb into the giant, neon-lit pod, feeling only slightly self-conscious about the whole thing. This is float therapy—anti-gravity, sensory deprivation—a giant enclosed bath containing 500L of super-saturated Epsom salts. It's about as close to the Dead Sea experience as you're gonna get in Collingwood's backstreet warehouse district.
Beyond Rest are one of Melbourne's OG float companies, perfect for floating beginners and pros alike. They've got a couple of centres in town, but this one's in Rokeby St, just near Rupert On Rupert. When you close the front door, the heat and the noise kind of fade; suddenly you're in a white-washed Zen parlour, the walls gently curving away. There's an unrecognizable instrumental pulse in the background—the sort of music a rainforest might make.
You can come here for a quick float, but we recommend the Anja Light Session beforehand. You lie down on a couch, headphones in, and close your eyes. Above your head is a powerful strobe, which blitzkriegs your retinas for the next half hour.
The treatment feels like a Beatles recording session, circa Sgt Pepper. Trippy light tunnels, and freakish kaleidoscope patterns on your eyelids. After a while your brain conks out, probably from over-stimuli.
Next it's time for the float. If you haven't done one of these before, the process is pretty simple. You enter a little room, lock the door, take off all your clothes (yep, proper nude), shower, then hop in the tub. Pull shut the big lid, turn off the lights and...nothing. You just lie there for about 60 minutes. It's designed to increase physical sensation while at the same time turning your brain into mindfulness porridge. Some people actually spend the night in here, and after about half an hour, you do begin to doze off.
The staff at Beyond Rest are lovely, and after your float they'll usher you into a little chill-out space, stocked with meditation books, squishy armchairs and piping hot green tea.
You can sign up for a float membership, and the centre even has a barter system, where you can swap your skills in design, photography, writing, accounting (anything really) for free floats.
Image credit: Beyond Rest
---