Bhang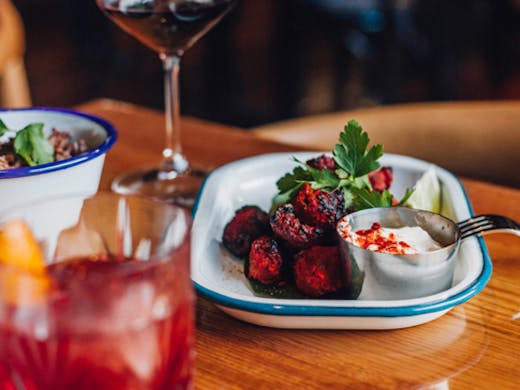 Verdict
If you Google "Bhang", you find it's the name for the cannabis flower—a way to get high in India and Nepal. But at Brunswick's newest Indian restaurant, the only high you'll experience is a good-food one.
The brains behind the popular east-Asian restaurant Tom Phat, duo Sway Quach and Dougal Colam decided to open up another restaurant and bar in Brunswick, concentrating on a kaleidoscope of Indian street-food flavours.
Bhang is set inside a converted two-storey warehouse, so expect to see minimalist detail complimented by some gutsy and vintage Indian film posters, trinkets from Indian travels, exposed brick, and timber.
Colourful with just enough spice, the people at Bhang recommend sharing dishes from all sections of the menu and finishing off the order with some quality naan and raitas. Upstairs is the dining area where you can order the popular and vego choice, Gobhi Korma—charcoal roasted cauliflower smothered in almonds, raisins, honey, and yoghurt. Meat-eaters can choose from a range of lamb, chicken, or duck all cooked in the charcoal oven for extra punch.
For dessert, go traditional with Gulab Jamun, a sinfully sweet treat served with rosewater, pistachio syrup, and cardamom ice-cream. Or try a more familiar option with their Spiced Poached Pear with masala chai ice-cream and coconut halwa (carrot, semolina, milk, almond, butter, cardamom, and a hell of a lot of sugar).
Downstairs is the communal bar serving Indian inspired cocktails like the Hum Tum. Named after a popular Bollywood hit, it's a blend of passionfruit, citrus, and rambutan and some good ol' vodka. Wine and beer are also available.
Doors open Tuesday to Sunday, 5PM til late so if you're keen to dig into some Indian food and culture, Bhang's your next stop.
Although, you can't actually get high there. We checked.
Image credit: Linsey Rendell
---