Big Dog's Deli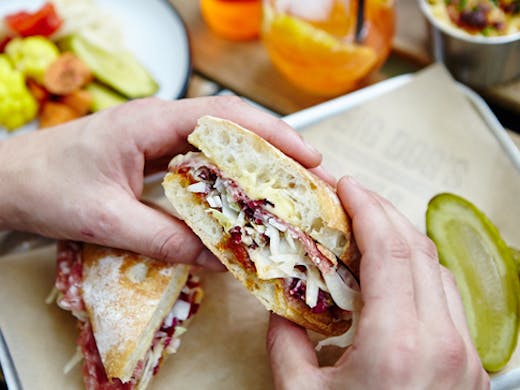 The Verdict
When chef Emely Donegan returned to Melbourne from a stint in Portland USA, she saw a sandwich-shaped gap in the market. Enter Big Dog's Deli, Richmond's new shrine to all the good things that happen between two slices of bread.
Big Dog's is all about honouring the humble sandwich…or at least teaching it a bit of swagger. Donegan chooses the bread with care, pickles her own kimchi and sauerkraut on-site, roasts sustainable pork from Victorian farmers, and pairs each meaty triumph with a rotating selection of local craft beers (look out for the very drinkable Willie Smith Cider–coming soon). Our pick? The Big Dog: an insane combo of 36-month aged Prosciutto di Parma, salami, pickled peppers, shaved pecorino, spicy nduja, shredded lettuce and aioli, kept in check by two slices of crusty ciabatta. Without a doubt one of the best sandwiches we've ever had. FYI, if you haven't tried nduja (a spreadable salami paste henceforth known as God's Margarine), it will change you in a very deep and profound way.
You'll find Big Dog's Deli tucked down Lennox St, near The Corner. The perfect spot for a pre or post-footy feed. Set yourself up in the beer garden out back, grab a pale ale, and prep your mouth for its journey to sandwich heaven.
THIS JUST IN: Emely has announced she'll be opening the Big Dog early on Boxing Day for an epic morning of breakfast sangas, good tunes and Bloody Mary's. The doors open at 8am, and she'll be serving the pre-cricket crowd up until around midday. Get in early and fuel up for the big test.
Image credit: Michelle Jarni
---