Bissel B.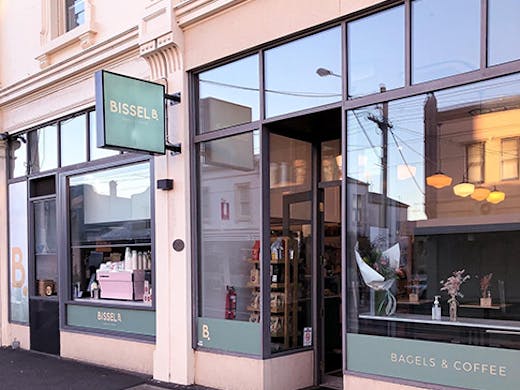 The Verdict
What can you expect at Bissel B? You guessed it, bagels. Sitting right on on the cusp of Punt Road in Richmond this quaint little shopfront has rafts of local devotees lining up daily to get their fill of the spherical handheld wonders.
Run by father-daughter team Jess and Gabriel Kurban, both devotees to Melbourne's hospitality scene with over 30 years in the business. The idea for the store was dreamt up after a visit to New York, noticing a gap in Melbourne's offering to the traditional Jewish baked good they quickly jumped on an available lease back in May 2020. The name Bissel B comes from the traditional Yiddish word 'Bissel,' meaning a little bit and the 'B' representing bagels, which they dish out daily to the swelling lines of sometimes up to fifty plus.

Heavily inspired by the mean streets of the big apple their bagels are each uniquely named after landmarks of the city, including the Williamsburg, which is filled with cream cheese topped with jalapeños and sweet bell peppers—and the Central Park which is filled with grilled halloumi, olive tapenade, baby spinach, tomato and caramelised onion. Catering for all bagel enthusiasts, Bissel B also stocks gluten-free bagels from GlutenFree4U and has plant-based and vegan options.

Now a takeaway only affair the clean storefront features their signature green branding and has an open window where their coffee machine slings out cups of Small batch coffee, countless bagels, as well as cookies and brownies from Proof Bakehouse.
Image credit: supplied
---