Bistro Morgan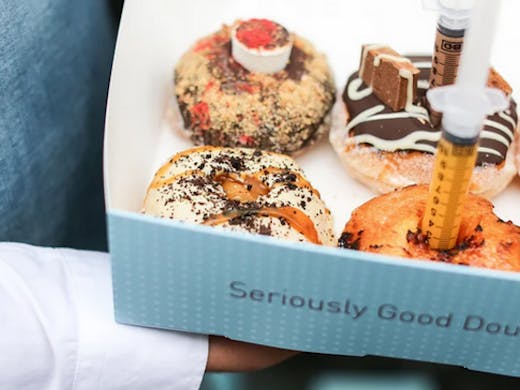 THE VERDICT
Not only did this doughnut oasis sell 10,000 deep-fried balls of sugary dough in the first eight days it was open, but the entire brand was created by a 15 year-old schoolboy.
Morgan Hipworth has been on the scene selling his dressed-up Bistro Morgan goodies through Melbourne cafes since 2015. After enormous success, the kid (literally) has just opened his own space in Windsor, and is now balancing a full-time education and a successful business that demands 50 hours from him each week (puh-lease).
But enough about how successful Morgan is (answer: VERY), let's talk doughnuts. In terms of flavours, there's Oreo & Nutella, Lamington, Peanut Butter Cup, Salted Caramel & Popcorn, and a tonne more. The doughnuts are all $5.50 a pop (or 6 for $30), and are pretty much the best use of your money ever.
To wash the doughies down, there's also milkshahes and 'Pimp Shakes' that come in flavours like Chocolate Brownie, Cookie Dough and Golden Gaytime.
This is definitely your one-stop-shop for all heart-attack inducing treats and mood-lifting goodies.
Image credit: Bistro Morgan
---