Black Flat Coffee Brewers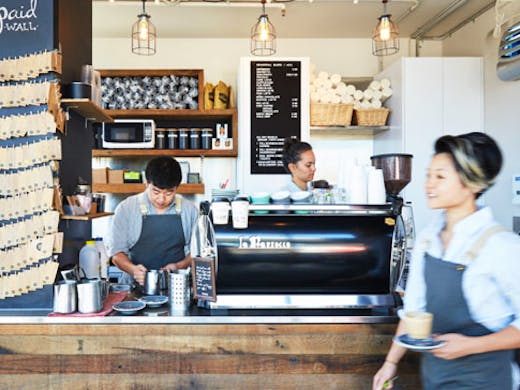 The Verdict
If there's one thing that can make the bleary-eyed commute a bit easier, it's a good cup of caffeine. Fortunately, the team at Black Flat have got you Glen Waverley folks covered.
Located just opposite the station, this hole-in-the-wall espresso bar is in prime position for you to grab your seasonal batch brew and still avoid that embarrassing shuffle-walk-run for your train.
Guaranteed smiling service and commuter-friendly efficiency, Black Flat is making customers happy with quality beans, and paying homage to bustling eastern suburb's history at the same time. Named Black Flat until 1921, this hole-in-the-wall has swapped flat land and dark soil for flat whites and dark roast.
If you fancy something sweet with your bitter roast, the mouth-watering pastries from Penny for Pound should do just fine. Forgot lunch? They've got a range of tasty bagels for you too.
Black Flat understands Melbourne's passion for good coffee, and they want to share their knowledge. They're now offering Espresso Basics workshops for locals wanting to try out some new skills.
If the wall of pre-paid customer cards is anything to go by, the locals are loving the service here. Have a cup and you'll get it. One of our favourite hole-in-the-wall cafes in town.
Image credit: Black Flat Coffee
---