BlendCo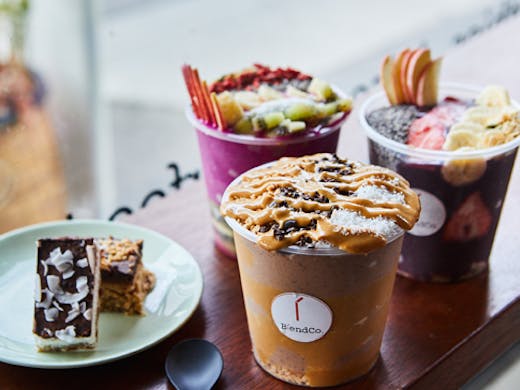 The Verdict
Picture it – you're at a music festival. It's summer. You're sweating a lot. All you've eaten for three days is BBQ shapes and a banana. Your body is depleted and the only food available is your mate's old tin of tuna or an expensive, tasteless, borderline call OH&S kebab.
You need healthy stuff. And you need it stat. That's where BlendCo comes in.
BlendCo started as a food van back in the day, and it's still got that relaxed, festival smoothie truck vibe. Now there's also a bricks and mortar store in Hawthorn, a little sea of tranquility on Glenferrie Road. Customers in search of a time-friendly health fix have a wide variety of blend trends to choose from. From giant cookies, to 1L acai buckets and the notorious superfood ball – BlendCo has created a hot spot for all things blendable.
All produce is sourced from local Melbourne markets and made in-store. That's right, every single week these guys roll out 3000 superfood balls that are then shipped out to various cafes up and down the east coast of Aus.
If the words 'blended bowl' turn your tummy frown on. BlendCo serve big boy serves of smashed avo, rice paper rolls, soups and burgers, too. Everything hold the guilt.
With summer right around the corner, we know the blend trend isn't going anywhere. If you love brain food with crushed peanut butter and coconut toppings, BlendCo needs to make its way onto your brunch rotation, stat.
Image credit: Michelle Jarni
---
You May Also Like