Bluebonnet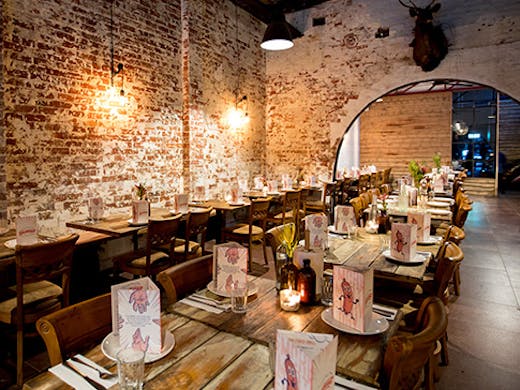 The Verdict
Where there's smoke, there's BBQ. Or is that the other way around? You'll have to ask pitmaster Chris Terlikar when you check out his brand new permanent digs: Bluebonnet (formerly 'Bluebonnet BBQ')
Bluebonnet has been around for a while, but always as a pop-up or a temporary lease. This is the brand's first bricks and mortar HQ, literally. Exposed brick is the texture of choice in here, along with country barn ceilings, chunky timber tables and a bar made from old railway sleepers.
Well they weren't gonna serve Texas-style, slow-cooked BBQ in a Scandi cafe, right?
If you've tried Bluebonnet before, you'll know how good their low n' slow meats can be. There's nothing added to the meat here except salt, pepper, smoke and time. The flavour comes from the timber—usually a mix of ironbark and oak.
The menu hasn't changed too much, although there are some new faces on there. You can load up on black garlic cornbread, fried green tomatoes or the ever-popular Brussel sprouts (blackened and soused to perfection).
The meat comes by the gram, and there's no mucking about. Everything's designed to be shared. You get a big, paper-lined tray in front of you, and everyone goes with their hands, mouths and face.
The food may be rustic, but there's a lot of smarts in the cooking. The crew here are all about the little details—getting the right beer to pair with the meat, designing a complimentary (and "very smashable") cocktail list.
For froths, that means 10 taps and a rotating mix of craft tinnies. There's also 100 rare and interesting whiskies in the cellar and some fresh cocktails behind the bar (all looked after by bar manager, Nate White). Our pick? The Adios Hermano, kicked up with agave tequila, coconut and hibiscus soda. Cuts through that brisket grease like a lightsaber.
You won't have trouble finding this place on Lygon St. Just follow your nose (and possibly the fire brigade).
Image credit: Kate Shanasy
---