Bob Hair Co.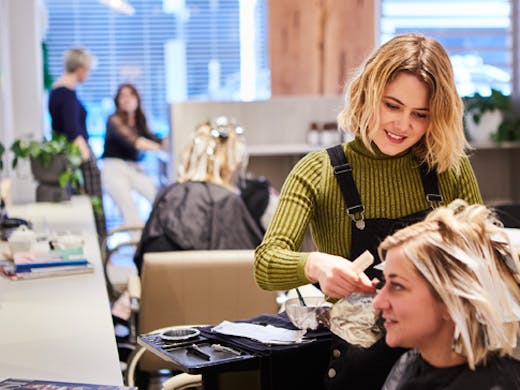 The Verdict
Tucked away 'round a corner off Toorak Road, there's a new salon dedicated to dedicated to "anti-crap": Bob Hair Co.
Far from the old family-owned business in the local plaza, Bob is a high-end, minimalist and sophisticated hair salon, designed with ethics in mind.
It's the brainchild of double act Charlotte Archer and Amanda Berry. With thirty or so years of experience between them, the duo are all about sustainability (in a very "non-wanker" sort of way).
Bob is proudly 95 per cent waste-free, and closing in on 100 with the new addition of compost bins for their food waste. As a sustainable salon, everything is recycled. Foil is melted down so it can be remade and used, chemicals stay far away from the sink and are disposed of properly, and plastics get recycled into pellets for benches and whatnot.
"The hair that comes off the floor is turned into booms for the Great Barrier Reef to soak up oil spills," Archer also explains. "They soak up four litres of oil per boom."
When it comes to making a sustainable switch, hair doesn't usually factor in people's lifestyle choices. it's usually diet, clothes and waste that gets the most attention, but Archer and Berry are determined to change that.
"It's really important that health extend to what you're putting on your body," Berry says. "If you're putting something on your scalp every six weeks that you will inhale and absorb, you've got to think, 'What's in it?'"
All of Bob's products are as natural as can they be, which means no parabens or sulfates. And when it comes to getting the sometimes scalp-tingling colouring treatment, Bob keeps it natural. "Our colours are toxic free so there's no ammonia, no PPD, no resorcinol, none of the nasty allergens that people are prone to," Archer says.
Bob also goes the extra mile and offers liquid barriers for on-scalp colouring and off-scalp techniques with foil for customers.
"There are a lot of ways we can work to not compromise people's health, because we do get a lot of clients seeking more natural alternatives," Archer says.
But most importantly, who is Bob? Well actually, the bob is a classic and timeless haircut in the beauty and fashion industry. Although Bob has become its own person in the salon too, with the duo often blaming Bob for a missing pair of scissors. "It's short, sweet, poignant, and playful. It just worked well," Archer says.
Aesthetically speaking, Berry says the salon is quite "serious looking" because of its minimal design.
"So having a name like Bob is quite playful—everyone has an uncle named Bob. It felt right to have something a bit more playful to balance the design," Berry says.
Image credit: Michelle Jarni
---