Bontempo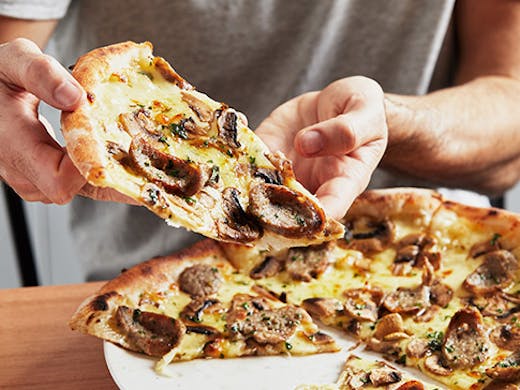 The Verdict
A lot gets written about South vs North sensibilities these days, as if a good pizza isn't welcome on either side of the Yarra. It doesn't really matter if you favour lycra or flannel. When it comes to appropriate cheese ratios, quality toppings and the perfect wood-fired base—delicious is delicious.
The team at Bontempo are banking on that very fact.
For the last few years Simon Liston and chef Joe Kavanagh have run Fratellino Pizzeria, a South Yarra stalwart that's been pumping out Neapolitan-style pizza for the better part of a decade. Now they've opened a new joint on Brunswick St, Fitzroy—about as quintessential Northside as you're gonna get. And they've brought the menu with them.
Bontempo's dough is a pretty traditional mix: flour, salt, yeast, water. The secret is the 48-hour, temperature-controlled resting period. It's a slower proof than most pizza places you'll visit, which results in a feather-soft dough, fired to a crust in Bontempo's imported Italian wood-fire pizza oven. This thing is a behemoth, shipped all the way from Europe, and requires a complicated flu network just to get out of the building.
If you're an old Frat's fan, and you're looking for something new, go The Bont: Kavanagh's signature tomato sugo, mozzarella, smokey pulled pork and a herby mix of basil, garlic and sage. The Zuca is also a surefire winner, with its veg-friendly roast pumpkin, feta, basil, pine nuts, spinach, rosemary and garlic. Personally, we're a sucker for the Angello—because who could possibly say no to slow-cooked lamb?
If you're more of a pasta lover, you can expect hearty home made style dishes. Don't look past the fettuccini gamberoni (think) King prawns, white wine, garlic, cream & a dash of napoli) and Gnocchi ai Quattro Formaggi. House-made gnocchi mixed with cream, gorgonzola, feta, pecorino and parmesan cheese is what your carb dreams are made of. Trust us.
The wine and beer list are curated, with house wine for only $5 and tap beer at $4.50 a pot. And (oh yes) there's a homemade tiramisu for afters: silky smooth and sinfully rich, as it should be. You won't regret ordering Nan's cassata or white chocolate calzone either…
Boasting over 100 seats and a huge open space, Bontempo is the perfect place for huge feasts with the whole fam, celebrations or catch-ups with all your mates.
Image credit: Griffin Simm
---
You May Also Like