Bosozoku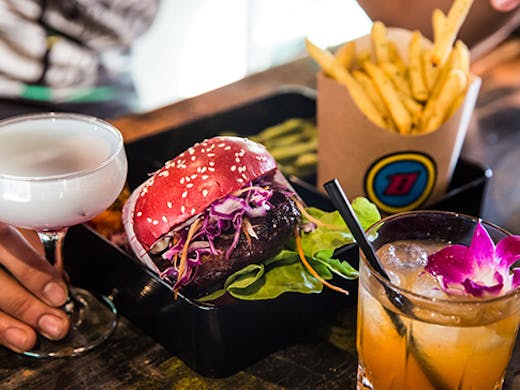 The Verdict
Yes, while there is indeed much to do on Chapel Street, you'll soon realise that there is more excitement happening off Chapel. Especially when you find out that the creative masterminds behind the Bird Watching Society and Lady Grange have combined forces to bring Melbourne its next party hotspot, inspired by the notorious Japanese outlaw sub-culture.
Nestled in the back streets of South Yarra is Bosozoku Burger Bar and Sake Den. If you've never been to Japan, you can finally ditch your FOMO, 'cause Bosozoku's got Sake warming stations, karaoke and Nintendo rooms, pool tables, motorcycle chandeliers, outdoor fire pits, Hitachi train seats and a dry ice spa (that you can kick back in whilst sipping on a cocktail).
Whether it's burgers, bubble cups, bento or booze (in a dry ice spa let's not forget), Bosozoku has something for everyone, and then some.
Now let's get to the important stuff. Lead by Chef Tomoya Kawasaki, there are crafty Japanese burgers starting at $10 including the Die By The Sword swordfish burger and the Road Rage sliced wagyu burger. Our recommendation? The epic Big Lobster BLT. It's made with fresh lobster tail and every mouthful is well worth the $42 you're paying for it.
All the burger buns are naturally coloured brioche and include black charcoal, purple beetroot and wait for it... green matcha buns. If you're boring AF and watching your carb intake (we joke, we joke), Bosozoku has your back, allowing you to transform your burger into a bento box with black rice instead of buns.
You'll also find all of your traditional Japanese favourites including gyoza, edamame and chicken karaage, just to name a few. They've also got their own take on poutine with their Japanese chicken curry poutine fries.
In terms of drinks, their offering comes with a Japanese twist, like the Espresso Martini with vanilla bean sake, the Wasabi Bloody Mary and the Cherry Blossom infused gin. And damn, don't get us started on their Japanese beer, sakes or whiskeys, damn.
"Bosozoku has been a long time coming… it is one of a kind," says Bosozoku owner Craig Kellermann. If you needed any confirmation on that, how many Japanese joints in Melbourne can say they have a friendly guard dog called Chaos who froths a pat?
We haven't even got to the best bit yet. In late 2017, Bosozoku started running all you can eat gyoza nights, Monday to Wednesday. Melbourne pretty much lost its collective shit, and they wound back the special to Wednesday nights (fair enough). It's still epic value though: $25pp gets you as many gyoza as you can eat, including Vegetable, Pork or Ginger Prawn. Ginger freaking prawn, people. Get all the info over here.
We don't know what you're usually doing on Wednesdays, but we bet it's not as good as this.
Image credit: Jenna Fahey-White
---