BOUNCE Inc.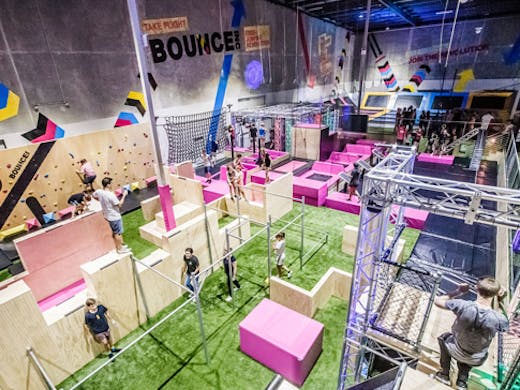 The Verdict
Now that we're all grown up (for the most part), we're all looking for ways to workout that aren't necessarily traditional, aka boring or difficult. Cue Bounce Inc. It's like the creators of Bounce were listening to our thoughts and answered our prayers, because if you're looking for a way to get that heart rate up without having to buy a gym membership, continue reading.
The idea behind Bounce is that it's basically a really fun and sociable way to burn energy without realising you're doing it. And the best part is—if you hate asking your friends to workout with you, you can just ask them out on a Bounce date instead.
The Bounce warehouse is like something you probably saw in your dreams as a seven-year-old. It's decked out like a giant trampoline theme park. Things tend to get pretty sweaty in the joint, so they've got mega fans to make sure that the air in the place stays circulated.
Whether you're looking to let loose or unleash some serious parkour skills on the joint, both ends of the spectrum are catered for – and everything in between. The Free Bounce section is where you can bounce to your heart's desire. There's also the Big Bag, basically a mega whoopee cushion which doesn't deflate on impact. For those of you partial to a little harmless competition, we'll see you at the Dodgeball Arena for a (friendly) game of dodge. There's also cliff jumping, super trampolines and loads more.
One of Bounce's latest additions is the X-Park Adventure Challenge Course, inspired by American Ninja Warrior. The course is essentially a free-style playground comprised of 15 different obstacles, each designed to challenge you and your body in the area of adventure training. Other than feeling like a legit Ninja Warrior, there are heaps of real life benefits of tackling the course. You'll be developing core strength, promoting cardiovascular endurance and increased overall fitness and stamina – and the best part is, you'll be having too much fun to even notice.
The X-Park obstacle course currently exists in four states across Australia, and we're just bloody glad Victoria is one of them.
Image credit: BOUNCE Inc.
---